Current iCloud version is 7. Some of the issues on this page are still "issues" even with the newest version of iCloud.
iCloud users should check iCloud Issues General issues affecting both iCloud1 and iCloud are at iCloud and Outlook Problems and issues specific to Contacts are at iCloud and Outlook Contact Sync Issues.
New appointments are added to your default Calendar folder and you cannot set the iCloud Calendar folder to be your default Calendar. If you want appointments added to the iCloud calendar, you'll need to either move (or copy) the appointments to the iCloud calendar or create them directly in the iCloud Calendar folder. If the Refresh button works, you can also use it.
While some versions of Outlook and iCloud will let you set the (iCloud data file as your default, with limitations), it's better and less problematic to configure Outlook to startup in the iCloud Calendar folder.
Don't use iCloud calendar, contact, or tasks sync for Exchange, Gmail, or Outlook.com accounts. These accounts support EAS (Exchange Active Sync) and will sync directly with the accounts OTA (over the air). Exchange server, Outlook.com and Office 365 business accounts will sync to Outlook and to the phone;
If Outlook and iCloud stop syncing, you need to close Outlook, open the iCloud control panel and sign out, then sign back in.
Appointments disappeared from Outlook | All Day Events don't display in Outlook
Appointments aren't on the To-Do Bar | Start Outlook in the iCloud Calendar
'Reminders aren't supported' | Appointments (and Meetings) don't sync | Sync Tools
Move Appointments and Contacts Tutorial | Calendar doesn't print | More Information
iCloud2: Can't edit meetings
Complete information and screenshots are at Can't edit meetings
After upgrading to iCloud2, you may not be able to type or paste notes into the notes field of some appointments (meetings) because the appointment or meeting is read-only. This happens because iCloud doesn't see your account as the meeting owner.
Workaround: click Forward > Forward. Outlook will tell you that you can't forward the item and will offer to make a copy in your default calendar.
Appointments disappeared from Outlook
All of my appointments disappeared from Outlook. How do I get them back?
iCloud creates a new calendar in your profile and moves your appointments to it. You can view the iCloud calendar in Outlook. Go to the Calendar navigation pane and select the "Calendar in iCloud". You can view it either side-by-side or in overlay mode. If you want the appointments in your default calendar, you'll need to drag them to it. Switch to a list view, select all and drag or use the Move to Folder command.
Not sure how to do this? We have more information at Merging Two Calendar Folders
All Day Events don't display in Outlook
This is an on-going problem with Outlook and iPhones: all day events without an end date don't display in the Day / Week / Month view. I'm not surprised it migrated to the iCloud.
First, check your calendar settings and verify you are not using Low details view. If the calendar view is set on High details, check your all days events for end dates.
Set the iCloud calendar to use a List view, add the Recurrence Range End field to the View and sort by it. Open any event that has No end date and set an end date.


I recommend using 10 events for yearly events and 1 year for more frequent events.
If you receive a warning the "Exceptions will be lost", see Changing the End Date on Recurring Appointments
Yearly Appointments don't sync correctly
When you create a yearly appointment on that recurs on a pattern (eg 3rd Sunday), it may use the original date for occurrence, not adjusting each year. This is because Outlook & Apple don't support the same patterns. In this instance, you'll need to create the even to occur every 12 months, not every year.
Appointments aren't on the To-Do Bar

My calendar is synced into Outlook. However, it's not set as default calendar ("My Calendar" is empty) and so I cannot see my appointments in the To-Do Bar. Can I make my iCloud calendar default so the appointments are in my To-do bar?
The default calendar used by the To-Do Bar (and Outlook Today) is the one in your default pst file. Outlook Today gets appointments and tasks from your default Calendar.
If you use iCloud 2, you can set the iCloud data file as the default, however, this will not work if you use an IMAP account. See iCloud default data files for details.
Start Outlook in the iCloud Calendar
Although you can't set the iCloud calendar to be the default, you can configure Outlook to display the iCloud calendar when Outlook is opened the first time. Yes, I know this isn't even close to being a replacement for not seeing the appointments on the To-Do Bar but it is one option available to you. Unless you select a different calendar, the iCloud calendar should be shown by default every time you switch to the calendar navigation pane.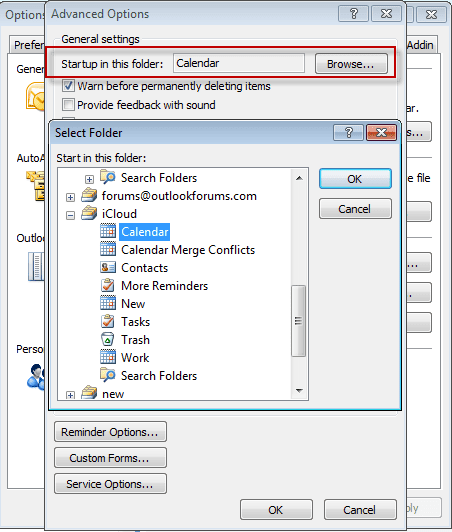 In Outlook 2010:
Go to File > Options > Advanced. Select the desired startup folder near the top of the dialog.
In Outlook 2007:
Go to Tools > Options > Other tab > Advanced Options button to select your iCloud calendar as the startup folder.
'Reminders aren't supported' warning

Why can't I set reminders in the iCloud calendar? When I try, I'm warned that reminders aren't supported in the iCloud folder.

This warning means reminders on those appointments won't fire in Outlook. The reminders should sync to iCloud and work on other devices. They may not fire in Outlook unless they are in a pst file.
New Appointments don't sync to iCloud

When I add appointments to my default Outlook calendar, they don't sync to the cloud?
If you want appointments in iCloud, you can create them in the iCloud calendar. It's easy to create them directly in the iCloud if you use the File > Move to Folder command. Add the command to the appointment form's ribbon to make it easier. See the video tutorial below for the basic steps.

The iCloud Outlook Add-in adds a Refresh button to the Calendar ribbon. It's used to initiate a sync between Outlook and iCloud. (It doesn't seem to do anything here.)
The Calendar stops syncing
If the calendar stops syncing from the iPhone to the iCloud folders, you need to sign out of the iCloud then sign back in.
Close Outlook.
Open the iCloud applet, either in the Notification area or Control panel and sign out.
Sign back in.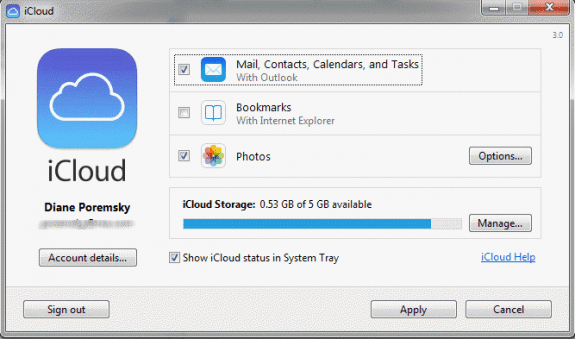 Meetings don't sync to iCloud
We're seeing two issues with meeting requests. The first issue is that meetings do not automatically sync with the iCloud; you need to move or copy the meeting to the iCloud folder.
If this is happening to you, I highly recommend using the macro at Copy meeting details to an Outlook appointment to copy the meetings as appointments, because the second problem is that meeting copied to the iCloud calendar are resent to the invitees with you as the organizer...
iCloud sends out meeting invitations
There are many complaints that Meeting invitations are sent from your iCloud account to all the invitees, with you (your iCloud account) as the organizer when meetings you are invited to are placed on the iCloud calendar.
Cancelling the meeting sends out a second "email blast" and may remove the original meeting from everyone's calendar.
Not good at all!
This was reportedly fixed beginning with v.1.0.1 of the iCloud applet.
Verify that you are using the latest version of the iCloud control panel. To check, go to Control Panel > iCloud. The version number is in the upper right corner of the applet (under the "X"). As of my last update to this page, v1.1 from March 2012 is the current version.
You cannot cancel these invitations, doing so may cancel the real meeting (as well as sending out a second mass mailing). To clear your calendar, disable calendar sync in the iCloud control panel and set your device to sync 2 weeks back. Some users called Apple Support and had an engineer clear the calendar. (On the device, go to Settings > Mail, Contacts, Calendars > Calendars > Sync.)
One solution is to copy meetings to the iCloud calendar as an appointment. I have a macro at Copy meeting details to an Outlook appointment that will do this for you.
Tools in the Spotlight
| | |
| --- | --- |
| Companionlink for Outlook | CompanionLink synchronizes Outlook data with phones and other supported desktop applications and web-based services (like Google). Companionlink supports all versions of Outlook, including Outlook 2013 32-bit and 64-bit, and Windows 10. Version 9 |
Tools
| | |
| --- | --- |
| CodeTwo FolderSync Addin | CodeTwo FolderSync Addin is an Outlook add-in that enables synchronization of folders. The synchronization of data will always take place between selected folders and the user can choose several pairs of folders that need synchronizing. Freeware. |
| CodeTwo Sync for iCloud | CodeTwo Sync for iCloud syncs Outlook folders with iCloud folders automatically synchronizes Outlook contacts, calendars and tasks with the iCloud data file in Outlook. CodeTwo Sync for iCloud will let you keep the iCloud and Outlook folders in sync, so you don't need to move or copy contacts and appointments between the default Outlook folders and iCloud folders. (Now Free) |
| gSyncit | gSyncit is an Outlook add-in that allows for two-way synchronization between Outlook calendars, contacts, notes, and tasks with your Google, iCloud, AOL, Fruxx, Yahoo, Memotoo and many other "DAV" enabled services. Also includes support for syncing attachments for calendar events. Works with Microsoft Outlook 2007, 2010, 2013, 2016, 2019, 2021 or Office 365 (Desktop Client) on Windows 7 and newer. |
| Memotoo | Backup and synchronize your personal data (contacts, calendar, files, bookmarks, etc.)with your phone, tablet and computer |
| OLMixedFolders | Your sync-software can sync only default folders of Outlook, but you need also subfolders and public folders? OLMixedFolders can synchronize any Microsoft Outlook subfolder or public folders with your Outlook default folders. It uses categories to keep in touch with the origin folder. It is possible to create elements for the linked folders directly on your mobile phone. After synchronization, the element goes to the specified folder. |
| Outlook CalDav Synchronizer | Outlook CalDav Synchronizer is a free Outlook Plugin, which synchronizes events, tasks and contacts between Outlook and Google, SOGo, Nextcloud or any other CalDAV or CardDAV server. Supported Outlook versions are Office 365, 2019, 2016, 2013, 2010 and 2007. |
| SimpleSYN Mobile | SimpleSYN Mobile is the synchronization solution for synchronizing Outlook data with your iPhone, iPad or Android device. Emails, appointments, contacts, notes and tasks are always up-to-date on all devices. Your Outlook data always remains local on your devices and is not stored in the cloud. On your smartphone you do not need an additional app and you can use the built-in apps. SimpleSYN Mobile syncs on the local network (WLAN) or on the way via the internet. Free 30 days trial available |
| Topalt Sync for Google and iCloud | Automatically synchronize your Outlook calendar and contacts with Google or iCloud. Access Outlook calendar and contacts on your Android phone or iPhone/iPad. |
Save and Move Appointments to the iCloud Folder Video Tutorial
The following tutorial shows you how to use the Move to Folder command to move new appointments or contacts to a different contacts folder.
On the open appointment form, click Save then go to File menu and choose the Move to folder command. If you previously used the folder (within the last 10 moves), it will be listed on the MRU, otherwise you will need to select the folder.
To make Move to folder easier to use (and remember!), you can customize the ribbon, adding the Move to folder command to the Home ribbon, placing it next to Save and close.
Note: In Outlook 2007, you'll need to add the command to the Quick Access Toolbar.
Calendar doesn't print

If you print a calendar from Outlook and it is either blank or missing appointments, verify that you have the correct calendar selected. While Outlook should default to calendar that is in focus (Calendar name is bolded, the appointments on it are brighter than others) when the default calendar is also selected, Outlook drops down to it.
There are two ways to address this:
Uncheck all calendars except the one you want to print (as seen in the screenshot above), then go to File, Print
or
Click Print Options then select the iCloud calendar (it should be the other calendar named just Calendar).