A Microsoft Outlook Most Valuable Professional since 1999, I own the Outlook & Exchange Solutions Center at slipstick.com. I'm  knowledgeable about Office 365, Exchange Online, Outlook.com, and the various Outlook apps.
Slipstick Systems operates internationally from Sheffield Lake, Ohio. Our major activity is researching and solving problems with Microsoft Outlook and Microsoft Exchange Server. Note that we no longer do large programming projects and COM addins, however we are able to set up and configure macros.
In addition to slipstick.com, Diane also owns outlook-tips.net, and poremsky.com (of course).
While all of the information available on slipstick.com, on Outlook Forums, and at Outlook Tips is free, I am available for fee-based consulting and private training and assistance, and can assist companies and individuals in setting up an Office 365 (hosted Exchange) account.
Training and one-on-one assistance

If you're looking for training or one-on-one assistance, I'm available for hire. My availability is listed at ScheduleOnce. If you would prefer a time outside of my available hours (in the Eastern Time Zone), email me and I'll try to accommodate the request.
| Service | Estimated Time Required |
| --- | --- |
| General Assistance | Varies |
| Setup syncing with an Outlook.com account | 75 to 90 minutes |
| Setup an Office365 Online Exchange account | 90 to 120 minutes |
My fee is $120.00 an hour, billed in 15 minute increments. Minimum fee $40.00 for the first 15 min. If a meeting ends early, you'll be invoiced for the actual meeting length. Payment is by credit card or PayPal. Invoices are sent after the meeting ends.
I currently use GoToMeeting for online meetings as it allows me to view your screen so I can see what you see and how you do things. When necessary, I can take control of your screen.
All contact with clients is always "non-disclosure". If you need a signed NDA statement prior to my looking at your mailbox, let me know. Recordings are made only at the client's request and are available only for that client.
History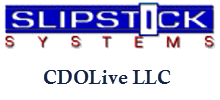 Slipstick Systems was founded in 1994 by Sue Mosher, a 15-year veteran of The Associated Press, experienced journalist, technology manager and software developer. Sue was recognized for her expertise in Windows support by being named a Most Valuable Professional by Microsoft in 1994 and retired in 2011.
In January 2004, Sue sold Slipstick.com to CDOLive LLC, a company formerly focused on developing Exchange solutions.
Books & Publications

Outlook 2013 Absolute Beginner's Guide
Teach Yourself Microsoft Office Outlook 2003 in 24 hours
Microsoft OneNote 2003 (Visual QuickStart Guide)
Google and Other Search Engines (Visual QuickStart Guide)
Contact
Please use the feedback form to contact me with issues related to the operation of this site.
If you need one-on-one assistance, I offer paid consulting services, otherwise, please use the comment section on individual pages if you have questions about something I've written about or use Outlook Forums or Microsoft Communities for assistance with new issues.
What Is a Slipstick?
"Slipstick" is a 1950s slang term for slide rule, a fine analog calculating instrument. Sue collected them from the U.S., Germany, Denmark, Russia and the Soviet Union.