I've seen quite a few users report problems adding a Google account (both Gmail and Google workspace accounts) to Outlook. When they need to log into Gmail to authenticate, they receive an error dialog that says the browser is not secure.
Google
Couldn't sign you in
This browser or app may not be secure.
Try using a different browser. If you're already using a supported browser you can try again to sign in.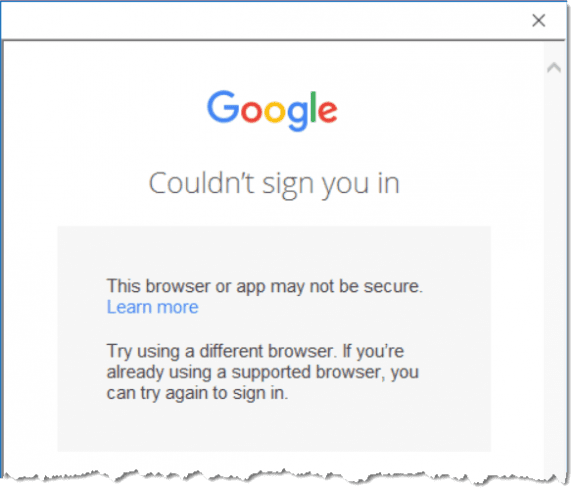 Solution: Before trying to sign in again, adjust the Internet Explorer compatibility settings in Edge.
Open Edge's Settings and search for Internet Explorer (or open this link: edge://settings/defaultBrowser)
Change one of the following settings (or both, if desired).
Let Internet Explorer open sites in Microsoft Edge to Always (Recommended) 
Allow sites to be reloaded in Internet Explorer mode to Allow 
Now try adding the account to Outlook. It should work. (You'll need to exit the Add account screens and start over.)
Apparently, Outlook is looking for a registry key that is missing until you change the IE compatibility settings.


HKEY_CURRENT_USER\SOFTWARE\Microsoft\Edge\IEToEdge
DWORD: RedirectionMode
Value: 2 (for Always (Recommended))