While you can remove duplicates by hand, the tools on this page make it easier when there are a lot of duplicates. Although some of these tools work only with the mail folders, many will work on any Outlook folder that contains duplicates.
Manually Remove Duplicates
To remove duplicates, you need to use a single line table view, either by turning off the reading pane (View tab) or by dragging it to the right to make it narrower (on smaller screens, you may also need to collapse the navigation pane and To-do pane). In Outlook 2016, you may want to turn off Message Preview.
If you are using the the default group view in email folders, click on the field names above the message list and deselect Show in Groups.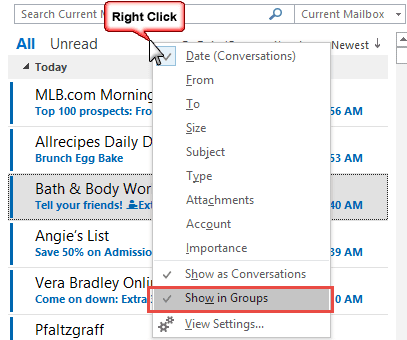 For email folders, all standard views use a table view and you just need to turn off grouping and move (or turn off) the reading pane to enable the single line view. In the calendar, choose Events or By Category view, or in Outlook 2010 and up, the List view. Use Phone view or a list view in Contacts.

With a single line view:
Right-click any column heading, then choose Field Chooser.
In the Field Chooser, switch from the Frequently-used fields list to Date/Time fields, and then drag the Modified date field to the view to add it to the fields displayed.

Click on the Modified column header to sort by that field.
You should now see your Outlook items in reverse chronological order.
Click on the first item you want to delete.
Use the scroll bar to find the last item with the same modified date.
Hold down the Shift key as you click on the last one. This selects all the items between the two selections.
Press Delete to remove them all from the folder.
Reset the view when finished.
This method works well with imported items or when you re-download messages left on the email server because you'll have one set of items with the same modified date.
Deleted Duplicated Email Video Tutorial
The steps for Outlook 2003 and up are basically the same, except for the menu commands to turn the reading pane off and on. The first half of the video was recorded in Outlook 2010, the second half in Outlook 2007.
To turn the reading pane off and on in Outlook 2010, go to the View ribbon and expand the Reading pane menu.

Tools in the Spotlight
| | |
| --- | --- |
| 4Team Duplicate Killer | Outlook Duplicate Killer is an add-in for Microsoft Outlook. Find, merge and remove Outlook duplicates. Compare, assign the category, flag and move duplicates to selected folders. Find and remove duplicate contacts, emails, calendar events, tasks and notes automatically. Manage duplicates in any Microsoft Outlook folder, including Microsoft Exchange and Public folders. Preview duplicate search results prior to processing. New Duplicate Killer has improved user interface. Now account name and folder path are display. |
| Duplicate Email Remover | Finds and removes duplicates, even if the messages appear in different folders. Delete, move, or copy duplicates to any folder. Mark duplicate messages with a flag. Search for duplicates in the same folder, or in different ones. Process duplicates in Public folders on the Exchange Server. |
| ReliefJet Essentials for Outlook | ReliefJet Essentials is a set of 162 utilities for Outlook, Office 365 and Exchange Server. It can backup, import, export and convert data into different formats. Perform personalized mass mailings. Save, remove and optimize attachments. Find and remove duplicate messages, contacts, appointments, meetings, and other items. Retrieve statistics on email usage and get reports on Outlook data and settings. You can run the utilities directly from Outlook, automatically in rules, via standalone app, or from the command line. |
Tools
| | |
| --- | --- |
| 1-Click Duplicate Delete | 1-click solution to remove duplicate mails, contacts or calendar items. Merges contacts automatically, has an undo function and a configurable advanced mode. Version 3.03 Now supports Outlook 2010 (both 32 and 64 bit). |
| 4Team Outlook Duplicate Remover | Duplicate Remover will find, merge and remove duplicates in 3 steps using simple search wizard. Search duplicate items and merge Outlook duplicates automatically. Review & merge duplicate Outlook contacts. Remove Outlook Inbox duplicates, duplicate Contacts and Calendar events, Junk contacts. Quickly clean up all your contacts. Application can now be started as a standalone, without starting Microsoft Outlook. Scan Outlook inbox automatically and clean duplicates in one click. Now delete duplicates for multiple folders. |
| Anti-Dupe for Microsoft Outlook | Remove unwanted Outlook duplicate records with Anti-Dupe for Microsoft Outlook add-in utility. Anti-Dupe for Outlook scans and deletes duplicate Outlook duplicate appointments, contacts, emails and tasks based on pre-determined criterion set by Anti-Dupe. Trial version available. |
| Deduper - Outlook Duplicate Remover | Deduper does exactly as the name suggests, it searches and removes all duplicates - including appointments, contacts, notes, tasks or emails. |
| Delete Duplicates for Outlook | Delete Duplicates for Outlook deletes duplicate e-mails. Detect and remove duplicate messages, contacts, calendar items, tasks, journal entries and notes. Compare messages by content (Standard), by part of the content (Special) or by unique message-id's (Light). Compare attachments and/or embedded files, by name and/or by content. Compare duplicates across several mailboxes or in within the boundaries of individual mailboxes. Use Regular Expressions. Works with all Outlook versions, inc. Outlook 2010/2013 32 or 64-bit. |
| Duplicate Eliminator Bundle | Either delete duplicate Outlook items or move them to a separate folder. Includes all 8 of the duplicate eliminator add-ins from Sperry Software for a single low price. You get: Duplicate Email Eliminator Add-In, Duplicate Email Eliminator Across Folders Add-In, Duplicate Contacts Eliminator Add-In, Duplicate Appointments Eliminator Add-In, Duplicate Tasks Eliminator Add-In, Duplicate Notes Eliminator Add-In, Duplicate Journals Eliminator Add-In, Duplicate Posts Eliminator Add-In. |
| Duplicate Email Eliminator | Cleans up a single folder by either deleting duplicates or moving them to a separate folder. Duplicate Email Eliminator Across Folders is a version to find duplicates across multiple folders. |
| Kernel for Outlook Duplicates Remover | Kernel for Outlook Duplicates Remover tool is specifically programmed to remove duplicate items of MS Outlook permanently. The tool easily locates all duplicate Outlook items and provides option to either manage them or remove them permanently. The tool supports removal of duplicate items for all MS Outlook versions. Its free trial version can remove 10 items from each folder and expires after 30 days of download. |
| Mergix Duplicate Contact Remover | The free duplicate contacts removal service for Outlook Exchange, Office 365 Mail, iCloud and other contacts sources. A time-saving solution to clean up large contact lists and Address Books automatically. The simple cloud-based app will scan and compare contact data across the selected email services (Microsoft Outlook with Exchange accounts, Office 365 Mail, iCloud, Gmail, Outlook.com, Hotmail) and find all duplicated contacts. The web app is compatible with all Windows PCs and Macs, iOS, Android smartphones and tablets. |
| NoMoreDupes for Outlook | NoMoreDupes detects and removes all duplicated Outlook items both in an Outlook pst file, a public folder or in an Exchange account. It shows the found duplicates in a preview for the user to decide which duplicates to remove. You can move the duplicated Outlook items to your "Deleted Items" or to any other folder you specify. NoMoreDupes uses a special algorithm to detect the Outlook duplicates. This Outlook-Add-In works with all versions of Outlook, including Outlook 2010/2013 64bit. |
| Outlook Duplicate Items Remover | Free tool for removing duplicate items from Outlook folders. ODIR recognizes duplicates in Contacts; Calendar; Tasks; Notes and Email folders. Using ODIR is very easy: select a folder and click the button Remove Duplicate Items. ODIR scans the selected folder for duplicates and MOVES all duplicates found to a subfolder ODIR_duplicate_items. Version 1.2 |
| Outlook Duplicates Remover | Removes duplicate items from Calendar, Tasks, Contacts, Notes, and mail folders. Free. |
| Stellar Duplicate Remover | Clean up your Outlook mailbox from unwanted and duplicate emails with Outlook duplicate remover tool. This software works as an Add-Ins in Outlook and removes duplicates as per different time span and scan criteria. Customized operations like Mark as Expired or Flag, Delete Permanently, Copy to folder and more are also a notable feature of this software. |
| Stellar Outlook Manager | With Stellar Outlook Manager you can back-up your important emails, compact large PST file, identify and remove duplicate emails, get back lost password, repair corrupt PST files and even split large PST files. All these functions can be managed conveniently in just a few clicks through a central console. |