This is a collection of tools used to remove duplicates from your Microsoft Outlook Contacts folder. Some of these tools will also remove duplicates from other Outlook folders.
When the duplicates are the result of importing and all are duplicated, you can sort by the modified date field (you'll need to add the Modified field to the view), then delete all of the items with the same modified date and time. When the duplicates have assorted modified times, you'll need to delete the duplicates yourself or use one of the many duplicate remover tools to automate the process.
If not using a list view, switch to a list view.
Right click on the row of field names
Choose Field Chooser
Find the Modified field in one of the All <type> fields list.
Drag the field to the row of field names and drop
Sort by the Modified field.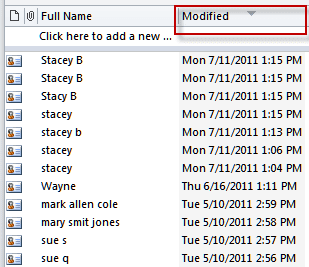 More Information
Several other kinds of tools related to contacts are listed on their own pages:
Telephony Tools -- including utilities to copy contacts to mobile phones and to use contacts with Caller ID
Microsoft Outlook Contact Forms