Oftentimes, Microsoft Outlook users who are leaving their current employer want to take their mail, calendar, or contacts with them and do one of two things: delete the Microsoft Exchange account from their profile without realizing the Contacts are stored in the Exchange account or they take the OST file with them, not realizing it can only be opened using the account that created it.


If you have the OST file but no longer have access to the computer that created the OST or you don't have a restore point, you'll need to use a tool to recover the contents of the OST. A list of these tools is below.
Beginning with Outlook 2013, Outlook was designed to permanently delete the OST data file when the account is removed from Outlook. If you deleted the account from Outlook and did not export the contents to a pst file or copied the OST file, your chances of recovering data is not good. You will need to use software to undelete files from your hard drive, but successful recovery depends on how much time has passed between deleting the account and running the undelete software as Windows will overwrite the deleted files. To see if the OST exists, type or paste %localappdata%\microsoft\outlook into the address bar of File Explorer. Many of the companies that have OST to PST recovery software also have file recovery software.
If your company uses a group policy that blocks PST creation, your choices are limited to exporting calendar and contacts to CSV (or Excel, if you have Excel at home). If you don't have many calendar or contacts, you can forward them to a personal address. If using Outlook 2007 or newer, you can send your entire calendar as an iCal.
Check company policies before taking home the contents of your mailbox.
Restore Exchange Account
If you deleted the Exchange account, you may be able to recover the account if your operating system supports system restore and you only recently deleted the account. If too much time has passed you are less likely to have a restore point available.
This method will also work with IMAP accounts in Outlook 2013 and up IF you have a copy of the IMAP data file.
Outlook 2013 and up automatically delete the account's OST file when the account is removed from Outlook. The only way you'll be able to use this method is if the OST file exists (because Outlook failed to delete it. It's rare, but it does happen.) To check, look for the OST at %localappdata%\microsoft\outlook before doing a restore.
Open the System Restore application. In Settings or the Search field on the taskbar or Start menu, type restore then select Create a restore point in the search results. Click the System Restore button to open the System Restore wizard. You can also open it by typing or pasting rstrui.exe in search field or in the Run command.

Pick a date just before the profile was deleted then follow the steps in the wizard.
When Windows restarts the account will be back and you can move or export the contents of the OST to a PST. Then either delete the account or run restore again to return to the point made before the restore, after backing up a copy of the newly created pst file.
Method 1: Archive
You may be able to use Archive to move or copy many items to a PST. Users Exchange online archive mailboxes will not be able to archive to a pst.
Autoarchive works best when you want to move almost everything in your mailbox, however, you cannot archive Contacts. You'll need to move or copy contacts to the pst file or use Export.
Set the AutoArchive default in File, Options, Advanced, AutoArchive and apply the settings to all folders. (The AutoArchive button the Folder ribbon allows you to set a specific archive setting for the current folder.)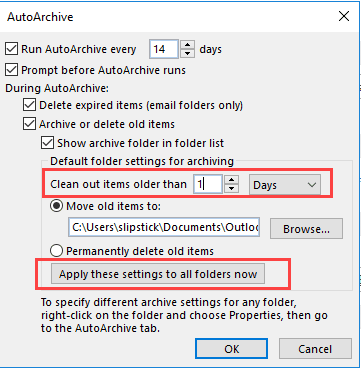 Then go to File, Tools, Cleanup, AutoArchive to run it.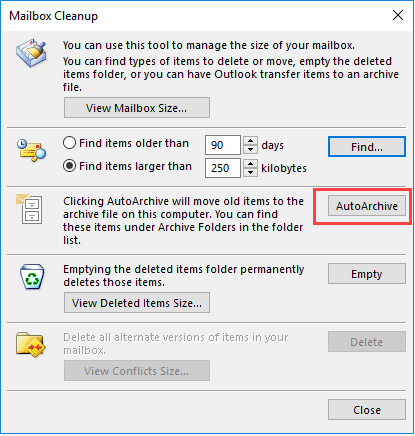 AutoArchiving uses the last modified date so you'll need to use a low number of days when archiving recent items. In Outlook 2007 and newer, you can force AutoArchive to use the Received Date. See Using Microsoft Outlook's Autoarchive feature
If you use this method and also need the Contacts, you'll need to move them to the new data file.
Method 2: Export to a PST
Although Export is not usually recommended, it works well for moving content from an OST to a PST file. You can export all content from the OST to a PST or just the calendar and contacts. If your company blocks the creation of PST files, export Contacts, Calendar, and Tasks to CSV or Excel format.
You'll use this method if you are moving to a new server and need to migrate your own email (or if the server died and there are not backups). Make sure you start Outlook offline so that you don't connect to the new server; connecting to the new server has the potential to delete the mail in the offline file. Export everything to a pst then remove your account and use auto account setup to add it back to your profile.
Method 3: Move the items to a new PST
Create a new PST in your profile and drag the folders you want to take with you to the PST. This method will preserve custom views and forms published to folder.
Dragging default folders, such as Inbox, Calendar, and Contacts, brings up a message that you can't move default folders. The contents will be copied instead, with the folder named Inbox (1), Calendar (1), etc.
Method 4: Forward by E-mail
If you don't have too many items you want to keep, you can email them to your personal email address. Select the item(s), right click and choose Forward or click Ctrl+F. If you have a lot of messages you want to keep, you could drag them to a folder in Documents, then zip the folder and email the zip file.
If you forward the messages to an account that is opened in Outlook, you can drag attached messages from the incoming message and drop it in the Inbox or another folder.
If you are using Outlook 2007 or newer, you can email the entire calendar as a single iCal, provided you use Outlook or another calendaring application that supports multi-event icals at home. Outlook 2003 and older versions of Outlook do not support multi-event icals.
To create the iCalendar file, you can right click on the Calendar folder and choose Share, Email Calendar. If you want to create the iCalendar file and do something with it later, select the calendar folder, then go to File, Save Calendar.
When you use Email calendar, a dialog will let you choose the date range and other options. If you are saving the calendar to your hard drive, click More Options in the Save as dialog to open this dialog.
The defaults are Today and Availability only; you'll most likely want to use whole calendar and full details. Note that some calendars don't support attachments; if you are including attachment you should save a second copy that does not include attachments.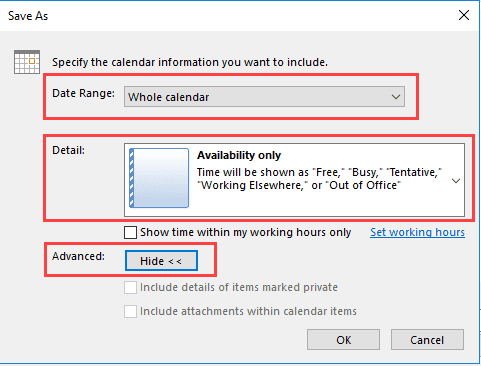 OST to PST export utilities
If you have an orphaned OST and can't recover the account using System Restore, you'll need to use a utility to export the contents to a pst file.
The free OST2PST utility will only work with OST files created by Outlook 2002 and older. If you aren't sure what version of Outlook you used, try it; an error means the OST is not the correct type.
Tools in the Spotlight
| | |
| --- | --- |
| | Stellar OST recovery software is the most efficient tool to convert Outlook OST file to PST file. The software successfully recovers all the components of .ost file such as emails, contacts calendar entries, attachments etc. The tool is able to convert OST file to working PST file in any instance of corruption. Free demo version is also available that previews all recoverable items of inaccessible .ost file. |
Tools
| | |
| --- | --- |
| | OST PST viewer is a free and powerful tool that will help you to open and work with OST, PST and other Outlook file formats without Microsoft Outlook installed. It can open orphaned or any size files created by any version of Outlook. PST file viewer is the right tool for users who have lots of PST files and don't want to connect each of them to Outlook. With the enterprise edition, you can change read/unread or follow up status of emails. New version includes fixes and additional modifications. |
| | OST2 Free Edition can convert up to 5 items in each folder of orphaned OST file. Use Enterprise Edition to convert and transfer all OST files to Microsoft Outlook. Import and export OST and PST files, from and to Microsoft Outlook, Exchange, Office 365, Outlook.com, Google and G Suite. Updated OST2 comes with improved performance of the software. Updated OST2 Software includes better handling of big Outlook data files and better handling of the application on different computer environments. |
| | DataNumen Exchange Recovery repairs and recovers corrupted Microsoft Exchange offline storage (.ost) files. Exchange Recovery can scan orphaned OST files and recover mail messages and other items, including folders, posts, appointments, meeting requests, contacts, distribution lists, tasks, journals and notes. The recovered items are saved in PST format readable by Outlook, Other important features: recover attachments and deleted items, recover oversized 2GB OST files, support to convert OST files into PST files. |
| | Kernel for OST to PST software is the one-stop solution for all OST file corruption issues. It effectively repairs corrupt OST file and converts it into Outlook accessible PST file format. Individual email items can be saved in different formats including PST, MBOX, TXT, RTF, HTML, EML, MHTML, MSG and PDF. It also provides option to export OST files to Office 365 and different email servers and web mails. It supports all versions of MS Outlook (2016), MS Exchange Server (2016) and Windows OS (Windows 10). Free trial version of the tool is also available. |
| | Kernel OST Viewer is a FREE utility to view the contents of OST files. It does not require Outlook installation. A connection with Exchange is also not required. Just select the OST file and it will mount it in its Outlook like GUI instantly. |
| | Free tool to convert older *.OST files to *.PST files. Works with ANSI format only, will not work with OST created by Outlook 2003/2007. |
| | Exchange OST to PST email conversion tool to convert OST file to PST file. Convert working or unusable OST file to into PST file. Use it to migrates all Outlook items from Exchange Offline Storage (.OST) file to Personal Storage File (.PST). Software converts and repairs the offline storage file (ost) to personal storage (pst) file so that it can be easily accessed with Outlook. Other saving options include .EML and .MSG where former is accessible with Outlook Express and latter with Outlook. If the ost file gets corrupt or damaged, OST to PST functions as ost recovery software. |
| | Remo OST to PST Converter is one of the most used tool to convert Outlook OST files to PST files. It helps in managing Outlook data among both IMAP and POP3 account users. Best thing about this tool by Remo is that you an convert a damaged or corrupt OST files into a healthy PST file. This indeed saves you from losing your precious data and then allows you to store it in a more flexible PST file. Remo OST to PST Converter is available to all versions of Microsoft Office and Outlook users, from Outlook 2003 to 2019. |
| | Stellar Toolkit for Outlook is a comprehensive software package to manage and optimize Microsoft Outlook profile. Get tools to repair damaged or corrupt PSTs, convert OST to PST, merge Outlook PST files, split or compact large PST files, and more. |