All versions of Microsoft Outlook support Archiving. You can use either AutoArchive to move or delete older messages, appointments, or tasks as they age or use manual archiving to move or delete messages in a specific folder and it's subfolders at any time.
You can configure each folder to have unique autoarchive settings or apply one setting to all folders.
If you use an Exchange server mailbox with an online Archive mailbox, Archiving in Outlook is disabled.
Configure Outlook's AutoArchive
To enable, review, or disable the AutoArchive settings in Outlook 2010 and newer, open the AutoArchive dialog from File, Options, Advanced, AutoArchive.
In Outlook 2007 and older, look for AutoArchive on the Tools, Options, Other dialog.
To check for folder-specific settings, right click on the folder and choose Properties, then AutoArchive tab.
If you want to run AutoArchive at any time, use the AutoArchive option on the File, Tools menu (Outlook 2016), File, Clean Up menu (Outlook 2010 & 2013) or in Tools, Mailbox Clean Up, AutoArchive in Outlook 2007.
Configure the Global AutoArchive Settings
Choose how frequently you want AutoArchive to run. Default is 14 days but you can choose any number between 1 and 60 days. If you are using AutoArchive to clean out your Deleted Items and Junk Email folders, choose a lower number, such as every 1 to 5 days. To disable or turn off AutoArchive, deselect this option.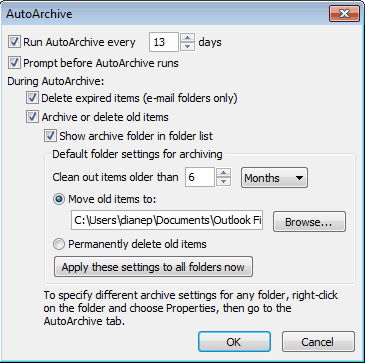 Do you want to be notified before AutoArchive runs? When the prompt comes you, you will be able to cancel it if you think it will interrupt your work.
Do you want to delete expired email? Default setting: Delete expired email.
Archive or Delete old items? If this is not selected, only expired messages will be deleted.
Show Archive folder in the folder list? Choose Yes if you want to keep the archive.pst in your profile. This makes it easier to find archived messages.
At what age do you want items to be archived? You can choose up to 60 days, weeks, or months (5 years). By default, the age is based on the last Modified date, not the received date. Editing, replying, or copying an Outlook item can change the last modified date. See AutoArchiving by Received Date to configure Outlook 2007 or Outlook 2010 to archive by received date.
Select the pst file you want to move archived items to or permanently delete old items. You can create a new pst file or use the default archive.pst which Outlook will create in the default location for pst files. (In Outlook 2010, this is in your My Document\Outlook Files folder.) If you permanently delete old items, archived items will be deleted and you will not be able to recover them.
Apply these settings to all folders. Use this only if you want to use the settings as the default for all folders. I don't recommend doing this if you have a lot of folders you don't want to archive, as you'll need to change the setting for each folder individually.
Configure AutoArchive settings for each folder
If you want some folders, such as Deleted Items or Junk Email, to use different settings, you can change the properties for that folder.
Right click on the folder and choose Properties then switch to the AutoArchive Tab. You will be able to turn off AutoArchiving, apply the default AutoArchive settings, or configure settings unique to this folder.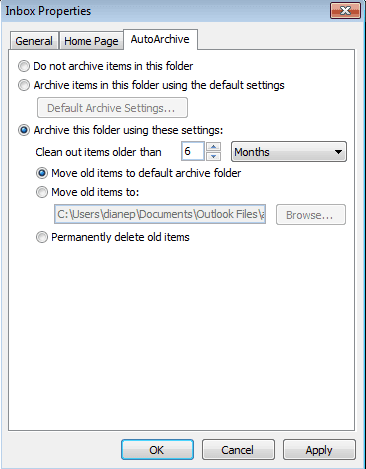 These settings are specific to each folder and are not applied to subfolders. You'll need to change each folder individually.
Manually Archive Messages
If you prefer not to use AutoArchive, you can manually archive at any time. Look for the manual Archive command on the File menu.
In Outlook 2013 and up, the manual Archive option is called Clean up old items. (The button for Archive button on the ribbon moves messages to a folder called Archive.)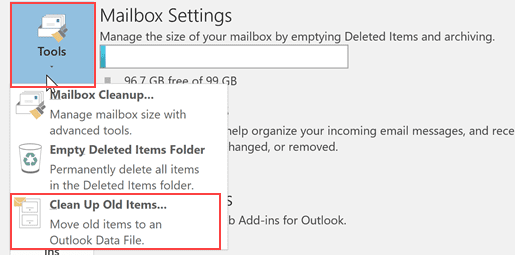 In Outlook 2010, it's under File, Cleanup Tools. In Outlook 2007 and older, it's at File, Archive.
Using Clean up old items (or Archive in older versions of Outlook), you can archive the entire data file using the AutoArchive settings or archive the contents of one folder and it's subfolders based on a specific date. If you want to archive all folders in an account, select the top level folder (where your account name is), select a date then click Ok to begin archiving.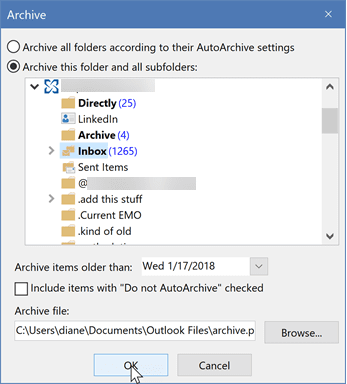 Video Tutorial