The latest Outlook security update is causing problems with iCloud (and attachments). A registry key is now available that will allow iCloud (and other affected MAPI services) to work with the patch installed. See "Outlook's June 13 2017 Security Update" for instructions. Outlook 2007 is the only version where iCloud is affected by the June 13 2017 security update, but attachments are blocked in some scenarios in Outlook 2010, 2013, 2016.
If Outlook keeps disabling the iCloud add-in, see "iCloud Doesn't Sync"
We're seeing a lot of questions (and complaints) about Apple's iCloud service and it's integration with Microsoft Outlook. iCloud is supported in current versions of Outlook and with Office 365 subscriptions.
iCloud & Outlook Calendar issues are at iCloud and Outlook Calendar Sync Issues and Contact issues are at iCloud and Outlook Contact Sync Issues. iCloud 2 users should check Outlook and iCloud 2: What you need to know and Outlook and iCloud: default data files
Users with POP3 accounts seem to have the most problems (but could benefit the most from iCloud), since the data is local to one computer.
Users with both a Blackberry and iPad or iPhone seem to be the worst off. iCloud cleared out the mailbox and the appointments were deleted from the Blackberry on the next sync. Ouch.
Outlook Integration | Default Data Files | iCloud folders won't expand
Sync Stops Working | General Issues | Instant Search doesn't find in all fields
Sync Blackberry & iCloud data | Disabling iCloud Sync
Configure Me account without iCloud | More Information
Calendar Sync Issues | Contact Sync Issues
Can you use iCloud with Outlook 64-bit? Yes, it will work with 64-bit Outlook. You will need to install the 64-bit version of iTunes.
One user asked if iCloud would work with Office 365. Yes, Office 365 will work with iCloud (in the same way iCloud works with other accounts). However, we do not recommend using Office 365 Exchange or Outlook.com mailboxes with iCloud. These accounts support syncing your calendar and contacts between the server, the phone, and Outlook on your desktop, so you can get your calendar, contacts, and email on your iPhone or iPad over-the-air and on any device you access Office 365 from. You do not need iCloud to share Office 365 data between computers and should not enable it. When iCloud is enabled, it moves calendar and contacts to the iCloud folders, removing them from the Office 365 server.
Exchange, Gmail, and Outlook.com users don't need to use iCloud for their calendar and contacts. These accounts support syncing to the device and all data is already in the "cloud" and syncs to all devices and computers.
Outlook Integration
After installing the iCloud service (either as part of iTunes or standalone), you need to configure it using the iCloud control panel. Although you will see iCloud listed as a data file option in Outlook, you need to use the iCloud service to add the data file and configure the service.
The iCloud control panel needs to set up Outlook. You cannot add a iCloud data file using Outlook's Account Settings, Data files, Add.
Close Outlook, open the Control panel, locate iCloud and sign in, then enable calendar and/or contact sync. If you are using an Apple email address (mac.com, me.com), select Mail also. (To set up the email account manually, see Configuring Me accounts, below.)
In current versions of iCloud you'll sync calendar, contacts, tasks, along with email if you are using an icloud.com or me.com account. If you don't have an Apple email account, an email account won't be created in Outlook when you sign in to iCloud, only Contacts, Calendar and Tasks will sync.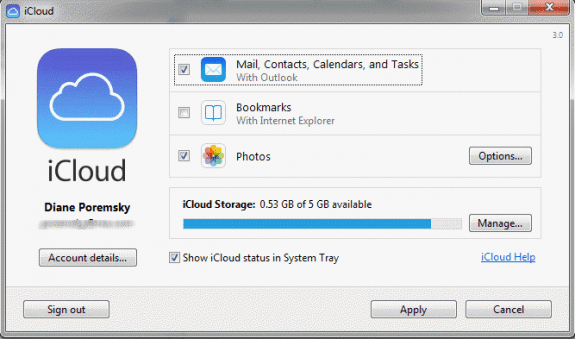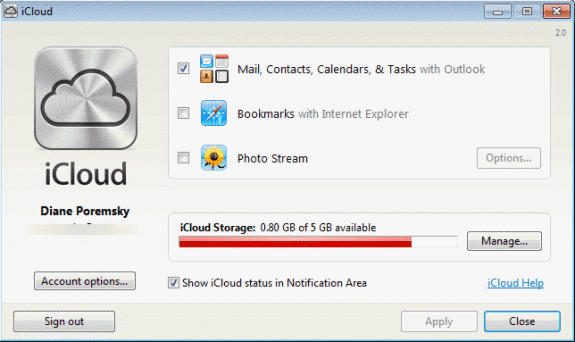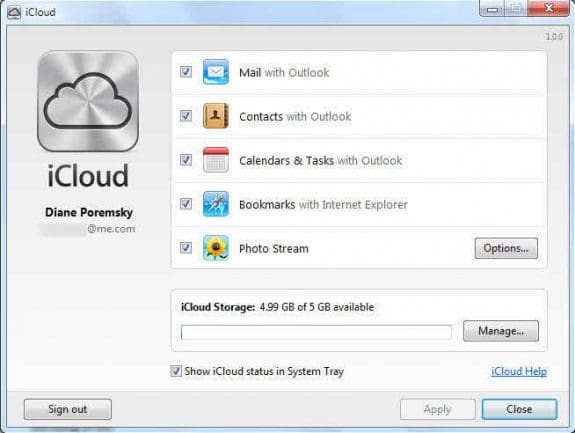 When you configure iCloud to sync Outlook calendar, contacts, and tasks data, the service creates a custom data store in Outlook, storing the data stream under the local appdata folder (your GUID may vary):
C:\Users\username\AppData\Local\974B7CD6-7080-4CDD-8C8F-564E6C7223DF.aplzod
There are two data files and two temp files in this folder. The "main.db-wal" file is a temp file and contains calendar data that syncs with the iCloud CalDAV server. This is a separate calendar and when it works correctly, your default calendar in Outlook will sync to iCloud.

Tip: To quickly find this folder, open your Account Settings dialog, switch to the Data files tab then select the iCloud line and click the Open File Location button. (Although there is nothing you can do with them. At this point I'm not even sure it's worth backing them up, since everything is in the cloud)
Default Data Files
The ability to set the iCloud data file as the default so appointments display in the To-Do Bar depends on which iCloud version you are using. The data file used by iCloud 1.x (from iOS5) cannot be set as the default data file. The data file created by iCloud 2 (iOS6) can be set as the default data file if you use a POP3 account. It won't work for IMAP accounts. When iCloud is set as default and you use an IMAP account, you can't send email.
More information is available at Outlook and iCloud: default data files
Outlook opens, iCloud folders won't expand
When you receive the following error when trying to expand the iCloud folders:
Cannot expand the folder. The set of folders cannot be opened. The information store could not be opened.

Open the iCloud control panel and sign out of the iCloud, then sign back in (and enable syncing, if not enabled when you sign in).
If you added the iCloud service in Outlook's Account settings, Data files tab prior to receiving this error, you'll need to remove it from Outlook before the iCloud can add it back. Only the iCloud service can add the iCloud data file to the profile.
Sync Stops Working
We're seeing reporting that sync stops working. The symptoms vary, from new Contacts and Calendar created in Outlook syncing up to the iCloud but changes made on the iPhone or iPad not syncing down to Outlook to all of the Outlook Contacts disappearing from Outlook's "iCloud Contacts" folder and new calendar items not showing in Outlook.
There are three solutions, listed in the order of use. If the first one doesn't fix it, move on to the next one. (Repair is rarely needed.) In each case, you need to close Outlook first.
1. Deselect Calendar and Contact sync in the iCloud control panel, Apply, then re-enable it.
2. Sign out of the iCloud in the iCloud control panel, then sign back in.
3. Repair the Outlook installation in Control panel, Programs and Features. After rebooting the computer, everything should show up in Outlook again.
When you sign out of the iCloud, you'll receive a message asking if you want to keep a copy of the iCloud data or Delete then from the computer. If you are going to re-enable the iCloud, it doesn't matter as everything will sync back when you re-enable iCloud. If you are removing the iCloud from your computer, you should keep a copy.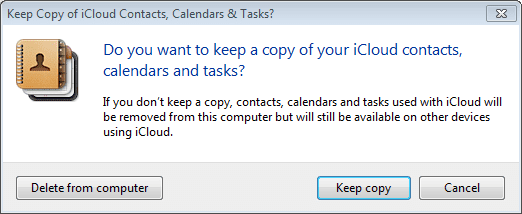 General Issues
We're seeing reports from users that Outlook is hanging. Outlook goes into a hung state after the reminders fire and some mail downloads. In my case, I was getting two reminder dialogs, one for the iCloud and one for my other calendars. Removing the iCloud data file from your profile (open it using Control Panel, Mail) and stopping sync in the iCloud applet may allow Outlook to work for you. When you re-enable sync (using the Control panel, iCloud applet), the iCloud calendar and contacts folder will be recreated and the data synced down from the iCloud.
Along with Outlook hanging, I have two reminders dialogs coming up when I use iCloud 1. (This does not happen with iCloud 2.)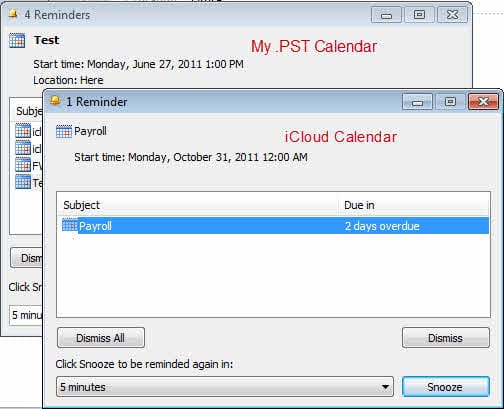 Instant Search doesn't find in all fields
When instant search doesn't find fields when searching records in the iCloud, verify the iCloud is enabled for search.
Press Ctrl+E or click in the search field then choose Search Tools, Locations to search. Is the iCloud enabled for search?
If Instant search still won't find content, you need to add the field to your view.
If you aren't using a List view (like phone list), you need to switch to it.
In Outlook 2010, switch to the View ribbon and click the Change View button to select a list view. In Outlook 2007, expand the View menu and select the phone list, By Category, or By Company view.
When in List view, right click on the row of field names above the contacts and choose Field Chooser. Find "Notes" in the field chooser dialog and drag it to the row of field names. (It should be in the Frequently used fields that display first.)
Now when you can search for Notes, you'll find them.


Sync Blackberry with Outlook's iCloud data file
I use the Blackberry desktop software to sync Outlook and my Blackberry. When I go into the Organizer, Configure settings, Advanced to map the iCloud folder, it returns an error.
This is because the desktop software syncs with an Outlook data file, not the iCloud's data file. Copy the items to your Outlook calendar or contacts folder to sync. (If the iCloud worked properly, it would not empty the local calendar or contacts folder, only sync with them.)
Disable iCloud Sync
To disable iCloud sync, open the iCloud control panel and deselect calendar and contact sync then sign out. Sign back in.
I turned off the iCloud sync but I get a message in iTunes which says that the Contacts and Calendars are being synced through Microsoft Exchange. I have never been connected to Microsoft Exchange. How can I stop this message and sync?
You need to reconfigure the device in iTunes. To do this, open iTunes and select the iPhone. Next, select the "Info" tab and scroll to the bottom, under Calendar and Contacts, and select how you want to sync.
Configuring @me.com Account in Outlook
When you create a @me.com account and enable email in iCloud, it creates an IMAP account in Outlook. The email is stored in a pst file.
Note: you can use this utility to set up only email. You do not need to sync calendar, tasks, and contacts.
The iCloud utility in Windows Control Panel configures the email account for you, including setting the Sent and Deleted items folder for the IMAP account (if using Outlook 2010). If you want to configure the email account yourself, try the following server names and port numbers. If they don't work, try changing the 6 in po6 to another number up to 99. However, it might be easier to configure the account on one computer using the iCloud utility then use those server names when you configure the account on other computers.
Incoming server names:imap.mail.me.com
More Settings, Advanced tab: Use port 993 and enable SSL
Outgoing Server:smtp.mail.me.com
More Settings, Advanced tab: Use port 587 and enable TLS
Username: alias only (not full email address)