When setting up iCloud to sync with Outlook, you may receive the following error message:
Your configuration could not be started due to an unknown error. (0x800706ba)
This iCloud error may be the result of having an IMAP account set as the default data file in Outlook.
The solution:
When you get to the point where iCloud asks which folders to sync, All Calendar, Contacts, Tasks or Some Calendars, Contacts, Tasks, choose Some Calendars, Contacts, Tasks.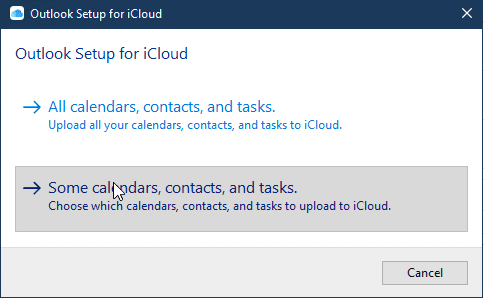 Then untick all of the folders so nothing on the computer syncs to iCloud, only iCloud sync down.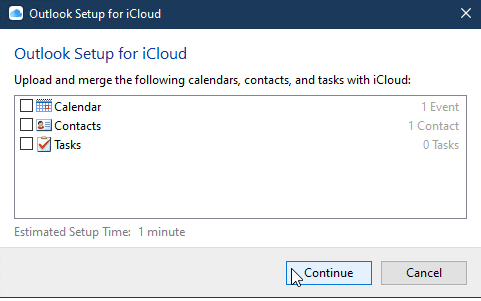 If you have contents in the folders you need in the iCloud, you can move them to the iCloud folders after the iCloud is added to Outlook.
If the steps above don't fix the sync issues, and you are using an IMAP account with "Calendar (this computer only)" and "Contact (this computer only)" folders, try this adding a PST file to your profile and set it as default. After iCloud is setup, you can set the IMAP data file as the default and remove the .PST.
Go to File > Account Settings > Account Settings. On the Data Files tab, click New, and then select Outlook pst. After adding it to the profile, set it as the default.
To remove it later, set the IMAP data file as default and restart Outlook, then right click on the PST file name in the navigation pane and choose Close [pst name].