In Outlook 2010 and up, the Junk Email Filter options (including Safe and Blocked lists) are per email account, but its not very obvious and many users discover it only by accident.
"I discovered that the Junk E-mail options are apparently per-mailbox. I originally disabled the junk mail settings from my Inbox. This morning, while reviewing messages that had been put in my Junk E-mail folder, I clicked on Junk Email options from within that message. Much to my surprise, it was set to Low. I closed the message and clicked on Junk Email options from my Inbox and it was set to No Automatic Filtering. In looking closer, I noticed that the Window Title bar indicates "Junk Email Options - (mailbox address)".
Correct, Outlook 2010's (and newer) Junk Email filter options are individual, not global settings. Rather than applying one setting to all accounts, you can set different options for each email account in your profile. While its easier to change the settings when you deliver each account to a different data file, the settings are per account, not per data file, so you can change the settings.
I looked under

Account Settings

and

Junk Email Options

and cannot find anything that lets me select which mailbox the Junk Email options apply to, but apparently they are per-mailbox as I see different settings depending on whether I'm in the Inbox, or in a message that was addressed to a particular mailbox.

Where do find the settings for the Junk Email Options for each individual mailbox?"
You found the Junk Email Options for the accounts.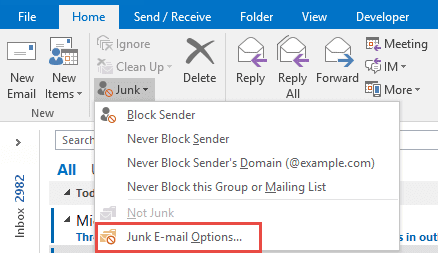 When you use multiple accounts delivered to separate data files, the Junk Email Options dialog shows the Junk Email settings for the account whose folders you are in.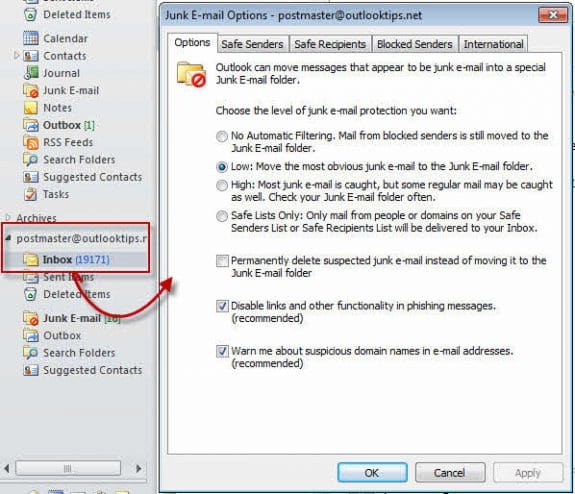 When more than one account is delivered to a data file, you'll need to open a message received by the account and click the Junk button to see the Junk Email Options.