How the blocked sender's filter works seems to a point of confusion for a number of Outlook users. It does not block the messages sent by those addresses from being downloaded; Outlook needs to download the messages to run the filters.
However, this doesn't match the user's expectation of how it should work.
Outlook's Blocked Senders puts the sender's address or domain on a list and messages will always be moved to the Junk Email folder. Users expect that Blocked Senders are blocked from the mailbox, not moved to Junk Email. One reason the messages are not blocked is in the event you accidentally add a "good" address or domain to the blocked list. If the mail is dropped, you won't be able to recover it. If it's moved to the Junk Email folder, you might find it.
Creating rules to delete the mail won't work either. The rules run on mail in the Inbox after the Junk email filter has removed all the spam. The messages the rules are supposed to delete are moved before the rule runs.
If the junk mail filter is moving the messages to the Junk Email folder, there is no need to block the sender. Most spammers use an address for a short period then move on to another address and you end up blocking an address that will never send you mail again.
In Outlook for Windows there is a limit to the number of addresses you can add to the Safe and Blocked list combined and you don't want to fill it up with addresses that are never used again.  You should be able to add approximately 2000 entries, more if you have more domains than full email addresses on the list.
Blocked senders are treated as Junk Email and the messages will be handled the same way as mail filtered by the Junk Mail filter. It's either placed in the Junk Mail folder or deleted, per your Junk mail options.
For this reason, and the reasons listed below, it is highly recommended that you add names to the Safe lists (to avoid false positives) and let the Junk Mail filter take care of the junk. Don't add addresses to the blocked list if the messages are filtered to the Junk Email folder. The blocked list should be short.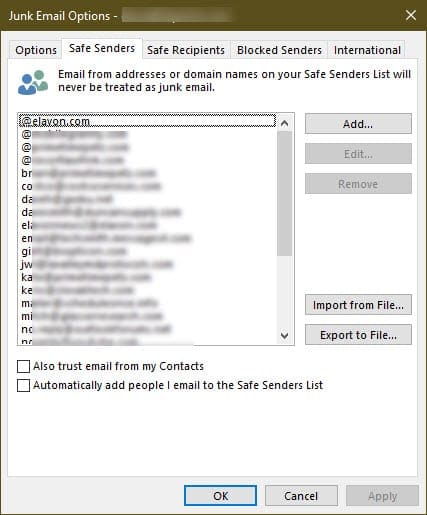 My own blocked list has 2 addresses on it. One is a person who forwards a lot of junk and the other is a newsletter I can't get unsubscribed from. I don't add people I send mail to, to my Safe Senders list because I reply to a lot of people just once or twice and my list would fill up fast, but it is recommended for most users.
If you choose to trust mail from addresses in your Contacts and you created a contact for yourself, all mail sent to you will be trusted.
How many addresses can the safe and blocked lists hold?
If the addresses are long, your list will hold fewer addresses; if they're short or you have a lot of domains on the lists, you'll have more total entries on your list.
For Microsoft Exchange accounts, including Outlook.com and Office 365, total size of all lists combined cannot exceed 510KB (as stored in the data file, not exported as a text file). Once the 510KB limit is reached, Outlook alerts you and additional addresses aren't saved until you remove some from the list.
Microsoft imposed the limit to improve performance, as the lists are stored as a hidden property in the Inbox and duplicated to the local registry. Each time the users synchronize with the Exchange mailbox store, the lists are downloaded. The lists are in the data values 001f041a, 001f041c, and 001f0418 within subkeys of the registry, in a different subkey for each account.
You can estimate the size of your lists as stored in Outlook by exporting the Safe Sender, Safe Recipients, and Blocked Senders as text files and adding the file sizes. The size in Outlook is two to three times larger than the size of the text files.
The safe and blocked lists for POP and IMAP accounts are stored only in the registry.  Each account has its own Safe and blocked list, stored in a subkey under the profile key. The lists are in the data values 001f041a, 001f041c, and 001f0418.
The limit can be adjusted on Exchange Server 2007 or 2010, by adding a new registry key value to the following registry key. This option is not supported on Exchange server 2013 and newer, including Office 365.

HKEY_LOCAL_MACHINE\System\CurrentControlSet\Services\MSExchangeIS\ParametersSystem\
DWORD: Type Max Extended Rule Size
Value Data: maximum size (in bytes) that you want to allow

Importing a list of blocked addresses from an older version of Outlook is not recommended, in part because these lists often are larger than 512K and Outlook crashes when trying to import them, but also because spammers change addresses so often that lists are outdated within a few months.
If Outlook's Junk email filter doesn't offer enough options, misses too much spam, or you need better Safe and Blocked lists, try one of the many excellent third party anti-spam filters available.
For a list of third party tools, visit Rules and tools to filter junk mail in Microsoft Outlook
Outlook needs to use cached mode with Exchange server mailboxes to filter junk email on the client side. In classic online mode, any junk mail that is filtered is done so by the Exchange server's filter.
For Exchange server junk mail filtering tools, visit Content Control Tools for Exchange Server
Customize the filter?
Is there a way to add a group of selected junk e-mail from the inbox to the blocked senders list all at one time instead of one junk e-mail at a time?
The short answer is simply No. The long answer is that while it seems like a stupid move by Microsoft not to include this functionality, or the often-requested ability to train the filter, they have an excellent reason for not including these options.
Microsoft believes that users should not have to touch the filters period. Any antispam solution should be automatic and good enough to catch most spam, because as we've learned over the years with antivirus software and Windows updates, users aren't particularly good at keeping their programs updated. It also takes time to tinker with antispam settings and filters, time better spent doing anything but configuring the filters.
If the filter is designed right, only a few addresses will need to be added to any of the lists - such as addresses belonging to people you don't want to correspond with or whose messages are mistakenly classified as spam. In fact, adding every address that is used to send spam to the list will result in a long list of names, many of which will never send you another message. In addition, you are limited in the number of names you can add to the safe and blocked lists and would need to spend a lot of time culling the list.
Your goal should be to have a Safe senders list longer than your Blocked senders list. If you need to spend minutes each day (or following each mail pass) adding addresses to your Blocked list, then your Junk Email settings are too low, you don't have the latest filter update, or you need a better spam filter than the one provided with Outlook. Businesses should filter out the spam on the email server, removing spam long before the messages are downloaded to their users desktop.
Delete addresses from the Blocked list
If you receive an error that your list is full or want to clean up the list, open the Junk Email Options dialog and delete names from the lists. In Outlook 2010 and 2013, open it from the Home tab, Junk button, Junk Email Options.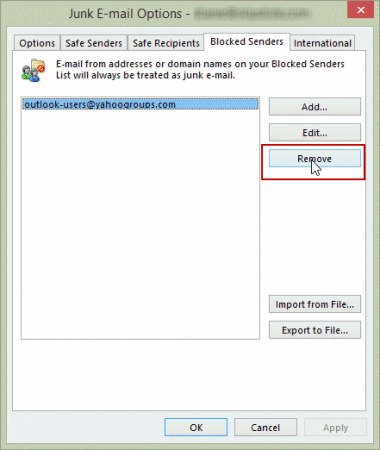 When you use an Outlook.com account, you need to log into the account online and remove the names from the blocked list (or verify they were removed when you removed them in Outlook.)