Update October 25 2017: Users are reporting that the Safe and Blocked lists are working again, following the installation of the most recent update.
Update: July 14 2017: some users are reporting problems with the junk filtering in Outlook 2007 - 2016. Poor filtering could be due, in part, to the retirement of SmartScreen, which means the exiting junk filter definitions will not be updated. See Deprecating support for SmartScreen in Outlook and Exchange for more information.
However, there appears to be a problem where Outlook is not blocking addresses on the blocked senders list. When using the 'safe sender only' option, Outlook is letting addresses through that are not on the safe sender list. The product team is aware of the issue.
Potential workaround: Change the encryption setting for the account to Auto. In File, Account Settings double click on your email account. Click More Settings... click Advanced tab. Change the "Use the following type of encrypted connection to Auto. Please post in comments if this fixes it.
Note: Server-side spam filtering is generally the best option as it removes the spam from your Inbox before you download load it. Smartphone users won't waste data downloading spam (unless they look in the junk mail folder from their phone); on the desktop side, with an IMAP account, Outlook will sync the Junk mail folder, making it easy to review.
In Outlook 2010 and up, expand the Junk button the ribbon, then select Junk E-Mail Options to view the Safe and Blocked Senders lists. Verify that your address is not on the Safe Sender or Safe Recipient list. These two lists override the Blocked Sender list and the junk mail filter.
If you use Outlook 2003 or Outlook 2007 and junk email filtering doesn't seem to be working, go to Tools, Options, Junk Email options and verify that your address is not on the Safe Sender or Safe Recipient list.
If you have more than one account configured in Outlook 2010 and newer, each account will have it's own junk email settings.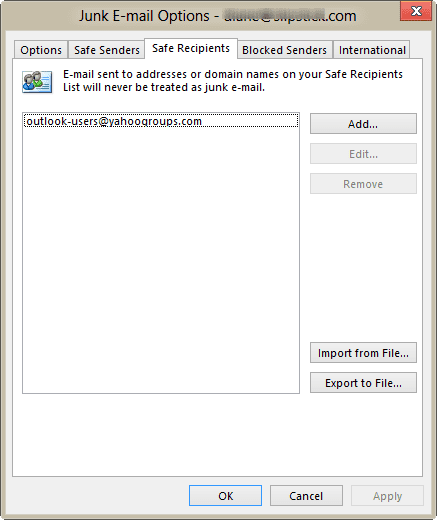 If you will never send email to yourself, add your address to the blocked senders list. This prevents spammers from faking you as the sender to send you spam.