All outlook.com accounts are migrating to Office 365. Outlook.com accounts can be configured as Exchange accounts in Outlook 2010 and up. Outlook 2007 users will be able to set the accounts up as Microsoft Exchange until October 31 2017, after which they will need to upgrade or use POP3 or IMAP. Outlook 2007 supports only one Exchange account and users with more than one Outlook.com or Exchange account in their profile will need to use IMAP for the additional accounts (or new profiles). Outlook 2003 users will still need to use POP3 or IMAP. See "Outlook.com Migration Status" for the steps to remove the connector accounts and set it up as Exchange or IMAP. Articles on the new Outlook.com.
You can use IMAP or POP3 with Outlook.com accounts if you don't want to use Microsoft Exchange, such as, if you only need email or are using Outlook 2003 or Outlook 2007 and more than one Exchange account. You can access your Outlook.com email with any email client that supports IMAP, including Outlook 2011, Thunderbird, and more.
If you are only using Outlook.com for email and don't need to sync Outlook.com calendar and contacts to your desktop, setting the account up as an IMAP account could be a better option. Outlook 2007 doesn't support multiple Exchange accounts in one profile but you can add additional Outlook.com accounts to your profile as IMAP.
To set up an Outlook.com IMAP account in Outlook, you'll need to use the manual setup option. Server settings are below; don't forget to set the Outgoing Server tab (in More Settings) to authenticate with the mail server.
These steps work with migrated Outlook.com accounts. Note that Outlook 2003 users will need to use port 25 or port 587 and SSL, not TLS, to send mail.
Field
Value
Incoming IMAP Server:
imap-mail.outlook.com
alternate servers: imap.outlook.com or outlook.office365.com
Server port:
993
Encryption:
SSL
Outgoing SMTP Server:
smtp-mail.outlook.com
Server port:
587
Encryption:
TLS
Note: if imap-mail.outlook.com seems slow to download mail, try using outlook.office365.com as the incoming server name instead.
How to setup an IMAP account
You'll need to use the manual setup option when you configure an Outlook.com IMAP account in Outlook.
Enter your display name and email address and the Outlook.com IMAP server names. Use your email address for the account name and enter your password.
Incoming mail server: imap-mail.outlook.com (imap.outlook.com or outlook.office365.com will also work)
Outgoing mail server (SMTP): smtp-mail.outlook.com

Click More Settings.
On Outgoing Server tab, enable outgoing authentication, using the default of same as incoming.

On Advanced tab, select SSL under Incoming Server (IMAP) and TLS for the Outgoing server. Change the Outgoing server to port 587. (The Incoming Server port should update to 993 automatically when you choose SSL).

If you prefer to Purge your mail yourself, and not automatically when you change folders, change the setting at the bottom of the Advanced tab.
Click Ok to return to the Add Account screen
Adjust the Sync Slider if you want to sync more than the last 3 months to Outlook.
Click Next to test the settings and exit the dialog.
Outlook 2011 for Mac
Outlook 2011 users will new to use a manual setup, at least short-term. Autodiscovery will eventually be updated to choose IMAP, but for now, use the manual method with the server names above. You'll need to change the SMTP port and both SSL boxes should be checked, as seen in this screenshot.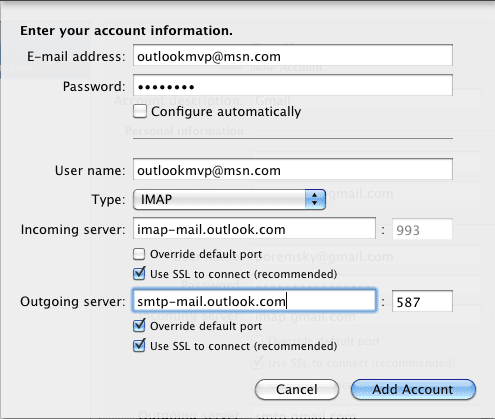 More Information
Announcement on the Office blog: Outlook.com now has IMAP