Outlook.com accounts are the Office 365 servers and should be configured as an Exchange account in Outlook 2007 and newer. IMAP and POP3 are supported if you need email-only.
Sync calendar and contacts using Outlook.com | Articles on the new Outlook.com.
Note: Exchange ActiveSync was turned off in Feb. 2017 for Outlook desktop clients (phones and tablets can still use ActiveSync). Add the account as Microsoft Exchange or as POP or IMAP.
You will need to use Outlook 2010 and newer with all updates installed to connect using Exchange services. (Outlook 2007 will work with Office 365/Outlook.com accounts for the near future but server response may be poor.)
Exchange services cannot be configured manually; use Auto Account Setup.
If you enabled two-factor authentication on the Outlook.com account, you'll need to generate an app password to use with the account in Outlook. Multifactor support for Outlook.com accounts is expected in Outlook 2019, possibly also in mid-2018 builds of Outlook 2016.
Exchange Account with Outlook.com
To set up an Outlook.com account using Exchange services, use Auto Account Setup. Enter your email address and password and Outlook will find the account information.
Outlook 2013 and up are fully supported in Outlook.com (and Office 365). If you use Outlook 2007 or Outlook 2010, you need to have all updates (as of 2015) installed to connect to Outlook.com using Exchange. (Server response may be poor with Outlook 2007.)
Outlook 2003 users will need to use IMAP or POP3 to connect to the new Outlook.com server, and will lose Calendar and Contact sync. If you need calendar and contact sync, use the Windows 10 Mail client or take a look at eM client.
Outlook Connector
The Outlook Connector is no longer supported.
You'll need to add the Outlook.com account to your profile using Auto Account Setup so it is set up as a Microsoft Exchange account.
Outlook 2013/2016 EAS
Exchange ActiveSync is no longer supported for the desktop client.
EAS is discontinued for Outlook desktop and all users will need to use Microsoft Exchange services. Exchange gives a much better experience (for example, multiple contact folders and contact groups, as well as Drafts folder syncs).
EAS will continue to work on smartphones; however many smartphones now use EWS (Exchange web services) to access email.
Outlook.com IMAP Configuration
Outlook 2003 users will need to use IMAP with the new server. (Or upgrade to an newer version of Outlook.)
To set up an Outlook.com IMAP account in Outlook, you'll need to use the manual setup option. Server settings are below; don't forget to set the Outgoing Server tab (in More Settings) to authenticate with the mail server.
Incoming IMAP Server: imap-mail.outlook.com
Outgoing SMTP Server: smtp-mail.outlook.com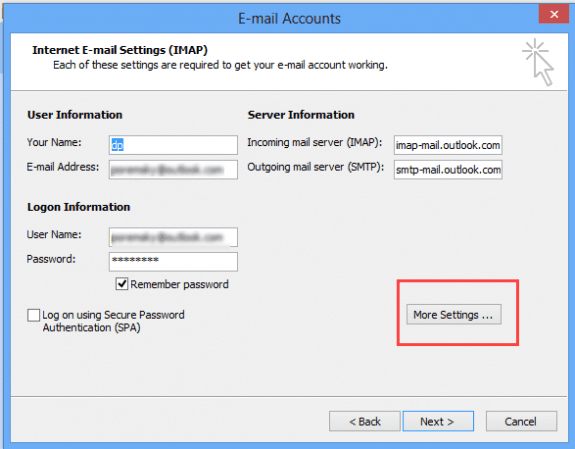 Click More Settings button, then Advanced tab. Select SSL as the encryption type for the incoming server. The port should change to 993 automatically. Change the SMTP encryption to SSL and the port number to 587. Outlook 2003 users will use Port 25 and SSL for Outgoing mail port.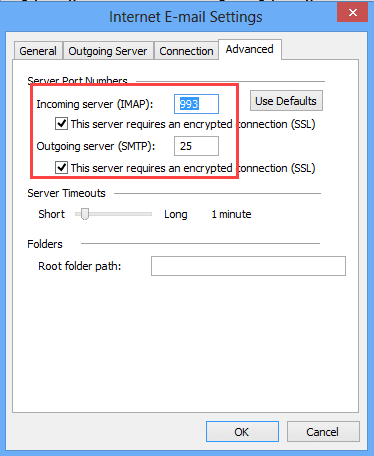 Use POP3 and SMTP
POP3 is disabled by default on Outlook.com accounts moved to the new server. You'll need to log into Outlook.com to enable POP3. Once enabled, you can choose whether to allow apps and devices delete mail from the server.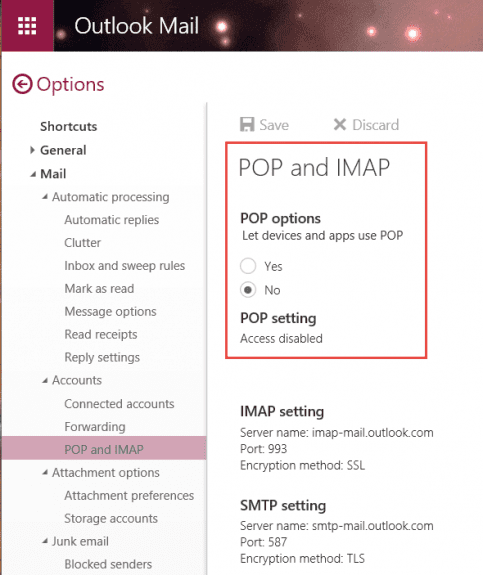 To use POP3/SMTP with your Outlook.com account, you'll use these settings:
Incoming server name: pop-mail.outlook.com
Outgoing server: smtp-mail.outlook.com
While setting up the account, click on the More Settings button and on Outgoing Mail Servers tab, select the My server requires authentication box. Choose Use same settings as my incoming server.
Click the Advanced tab, and under Server Port Numbers, enter the following information:
For Incoming mail (POP3), use Port 995.
For Outgoing mail (SMTP), use Port 587 (port 25 if using Outlook 2003).
Under both Outgoing mail (SMTP) and Incoming mail (POP3), select the 'requires secure connection (SSL)' check box. In Outlook 2007 and up, choose Auto; use SSL and port 25 for Outlook 2003.
Under Delivery, select the Leave a copy of messages on server check box if you want to see your messages when you use Hotmail in a web browser, your mobile phone, or other e-mail programs.
Adjust your settings in the account options online (under Accounts, POP and IMAP), and either let Outlook.com move the mail to special POP folder when Outlook tries to delete it from the server or let Outlook (and other clients) delete the messages.