Following the installation of Windows 10 Fall Creator's Update (version 1709), Outlook doesn't show recent messages, appointments, or attachments in the People Pane.


Microsoft fixed this issue in Windows 10 build 1803. This is a Windows issue, not Outlook, and won't be backported to older Windows versions. You'll need to install Windows 10 1803 to fix it. This version was released to Windows Insiders in December 2017 and is expected to be released to the general public in Spring 2018.
"Social Connector add-in is deprecated" and all of the social features are disabled except for the People Pane.
If you aren't familiar with the People Pane, it's a search results pane at the bottom of Outlook items and the reading pane. When you select a message or a contact, it shows recent messages from the selected person. If a message is sent to multiple people, selecting the sender's or a recipient's icon will display messages they sent you, meetings with them, and attachments.


The People Pane is a feature of the Social Connector and is only available if the Social Connector add-in is enabled, but the pane is turned off by default in new installations. You can turn it on in the View tab, People Pane menu. If the pane is Normal or Minimized, you can expand and collapse it using the caret icons on the top right of the pane.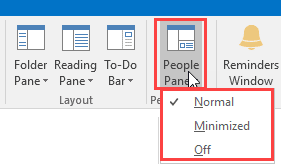 If the People Pane button is not visible next to the To-do Bar button, enable the Social Connector add-in in File, Options, Add-ins.