I mentioned this issue in another article but because it is a big problem for many people, it generates a lot of questions *and* almost all comments are negative, it bears repeating.
The most frequently asked question to date is how to change the interface color. Outlook (and all of the Office apps) are so… white. Blindingly white. Hurts your eyes white.
As bad as the blue, silver, black, or green color schemes were in older versions of Outlook, for many users they would be better than all white.
Following all of the complaints with the Preview, Microsoft added 3 color options to the final version. You can have any color you like, as long as it's gray... choosing between white, light gray, or dark gray. Outlook 2016 tweaked the colors a little, adding a 'colorful' theme and black.
You can also add a little gray scale decoration to the upper right corner of the application. It's cute eye candy, nothing more, and in the RTM build there are currently 14 designs to choose from.
Turning down the screen brightness will help, a lot. I've always kept the brightness set low and the white in Outlook 2013 RTM was livable. I didn't realize how bright the default settings were until I got a new tablet. Whoa! The default settings are really bright, even on the system that adjusts the brightness to match the room's ambient light.
Add lines to break up the message list
This tip is from James:
Go to View -> View Settings -> Other Settings and add some dots between the messages.
This is the same View Settings dialog found at the bottom of the menu when you right-click on "All Unread", or the sort order labels.
In the RTM screenshots below, I use a solid line to separate the messages - dots worked fine in older versions of Outlook but dots are all but invisible on my screens in Outlook 2013.
White Color scheme Outlook 2013 RTM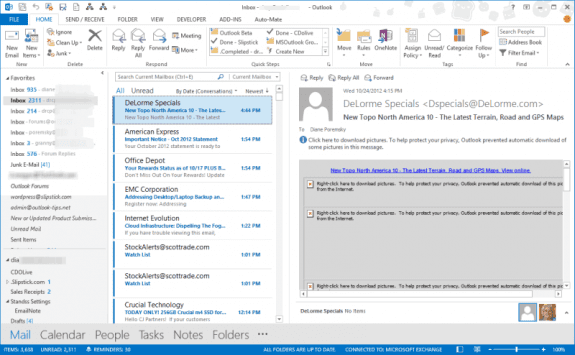 Light Gray color scheme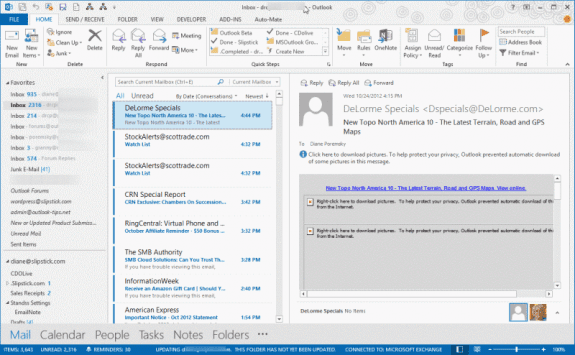 Dark Gray scheme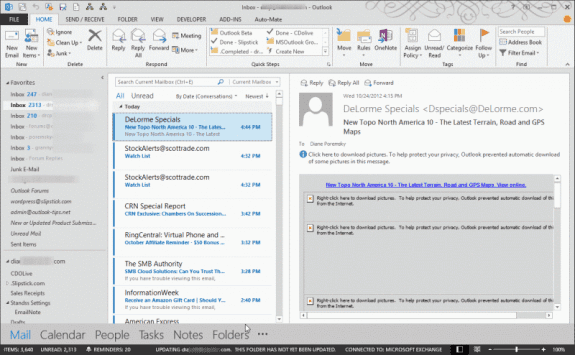 Change the color or background design
To change the color scheme or the background design in the final version (not Preview), go to File, Account in any Office application (in Outlook, go to File, Office Account).