A user trying out the new Outlook wanted to know how to block all external content, just as he can in Outlook for Windows desktop.
Unfortunately, it is not possible with the new Outlook app. If you are using an Outlook.com mailbox, you can block external content from people not in your safe list or address book but cannot block all external content like you can in Outlook desktop.
To check or change the download settings, open Settings (from View tab or the gear icon in the upper right). Select Mail, then Junk email.
Verify the account you want to apply the changes to is selected at the top of the page,


Then scroll to the end of the page and select "Block attachments, pictures, and links from anyone not in my Safe senders and domains list".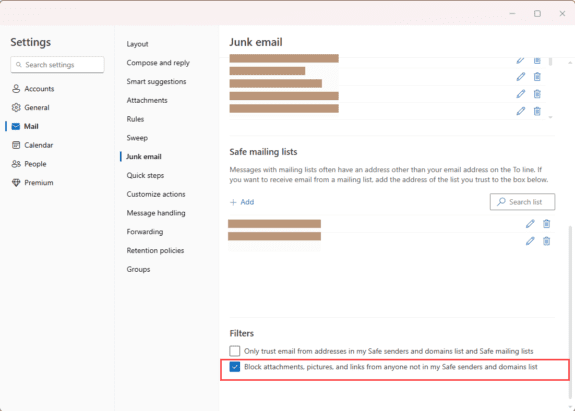 The settings for Microsoft 365 Work or School accounts will filter mail from addresses not in contacts or the Safe list into the Junk Email folder.
You cannot block external content in IMAP accounts.