May 18, 2021: An update that fixes this and restores the single line autocomplete list in Outlook 2019/2016 is now available. Check for updates then restart Outlook, even if no updates were downloaded.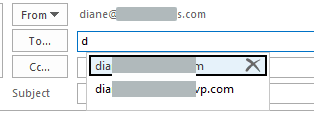 Users are reporting a problem in Outlook 2019, 2016, and Outlook 365: the autocomplete list is messed up. It may open upward, not downward, the autocomplete lines may be taller than normal, and you cannot delete entries from the list using your mouse, only the Delete key.

In Outlook 2016 and 2019 the menu is larger (and has initial circles), plus the X is missing to delete autocomplete entries.


This is a bug in the latest Office updates and Microsoft is aware of the problem. The only workaround for Office 2016 and 2019 is to rollback to the previous build. Outlook 365 users can delete the DisableAutoCompleteUpdate value from the registry.
If you are using the DisableAutoCompleteUpdate registry key so Outlook uses the older simple autocomplete list, removing or renaming the value should fix the autocomplete list opening upward.
The key is at
HKEY_CURRENT_USER\Software\Microsoft\Office\16.0\Outlook\Options
DWORD: DisableAutoCompleteUpdate
How to revert to an older build
If you want to rollback your office installation, set Outlook / Office to not install updates automatically then use the rollback script to go back a build or two.
Type cmd on the Start screen to find the Command Prompt then right click on it and choose Run as Administrator
Paste this in the command window and press enter to revert to the April 23 build.

"C:\Program Files\Common Files\microsoft shared\ClickToRun\officec2rclient.exe" /update user updatetoversion=16.0.13901.20462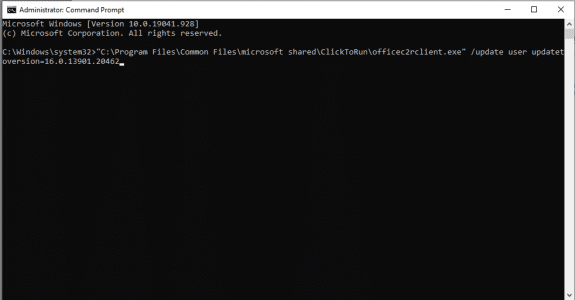 Recent build numbers
Release Date & Version
Build number
April 29, 2021 Version 2104
13929.20296
April 23, 2021 Version 2103
13901.20462
April 13, 2021 Version 2103
13901.20400