If you receive this error setting up iCloud, see iCloud error: Outlook isn't configured to have a default profile
After you install Outlook 2010, Outlook 2013, or Outlook 2016 and try to send mail using the File, Send by email command in other applications, Outlook may not be recognized as the default mail client.
The causes include:
You are using Outlook 64-bit and 32-bit programs can't "see" 64-bit programs.
Installing the application AFTER installing Office. The fix: repair Office.
Internet Explorer is set to use Windows Live
Verify Outlook is set as default mail client
To verify Outlook is indeed set as your default email client:
First, in Outlook, go to File, Options, General. Is Outlook set as the default client?
Next check the Windows settings.
In Windows 10: 
Open Settings
Type Default Apps in the Find a setting field
Verify Outlook is set as the default Email client at the top of the page.
In older versions of Windows:
Open Control Panel and search for Default Programs.
Select Set Default Programs link.
Repair Office installation
If the affected program was installed after Office, try repairing the Office installation.
Open Control panel, Program and Features
Find and select your Office or Outlook installation
Click Change
Select Quick Repair then click the Repair button. (In older versions of Office, the option is called Repair.)

Using Outlook 64-bit with 32-bit Applications
Using 64-bit Office is not recommended unless you need large (2GB) file support in Excel or Access. There is no benefit in using Office 64 bit for "normal" users. Also, you cannot mix-and-match Office 'bitness' - you need to use all 64-bit or all 32-bit Office applications. See 64-bit editions of Office 2010 for Microsoft's recommendations.
If you are using Office 64 bit, check this registry key and create it if it does not exist.
Outlook 2016
HKEY_LOCAL_MACHINE\SOFTWARE\Wow6432Node\Microsoft\Office\16.0\Outlook
String: Bitness
Value: x64
Outlook 2013
HKEY_LOCAL_MACHINE\SOFTWARE\Wow6432Node\Microsoft\Office\15.0\Outlook
String: Bitness
Value: x64
If you don't want to edit the registry yourself, you can download and run this registry file:
Outlook 2016Outlook 2013.
Outlook 2010 Click to Run
If you are using Outlook 2010 Home and Business C2R, you should uninstall it then log into the download site and download the MSI. This will install the traditional Office suite, which is recognized by other applications.
Note: All Office 2013 suites sold "retail" are "click to run". It was designed to work like the traditional MSI installation. Only certain volume licenses include the MSI installation.
If you choose to use the following registry hack, you do so at your own risk - it puts Outlook into an unsupported mode. If you have problems with Outlook, you need to remove these keys before troubleshooting. Our recommendation is to use 32-bit Office.
In the Start menu's Search field, type regedit then press Enter. (You'll probably need to ok a security dialog.)
In the Registry editor, browse to
HKEY_LOCAL_MACHINE\SOFTWARE\Clients\Mail
Right click on the Mail key and Export a copy for backup.
Right-click on Mail again and create a new key called Outlook64Bridge
Next, right-click on Outlook64Bridge and create a key under it called DLLPath. Right-click again and create a key called DLLPathEx.
Locate the 32 bit version of the file MAPI32.dll on your computer and enter the complete path name in each DLLPath key (replacing "something\something\...." with the correct path on your computer):
HKEY_LOCAL_MACHINE\SOFTWARE\Clients\Mail\Outlook64Bridge\DLLPath
"C:\WINDOWS\something\something\....\mapi32.dll"
HKEY_LOCAL_MACHINE\SOFTWARE\Clients\Mail\Outlook64Bridge\DLLPathEx
"C:\WINDOWS\something\something\....\mapi32.dll"
(On my computer, a mapi32.dll is at C:\Windows\winsxs\x86_microsoft-windows-mapi_31bf3856ad364e35_6.1.7601.17514_none_ad54ab3a7801c830)
Next, change the default client to Outlook64Bridge:
HKEY_LOCAL_MACHINE\SOFTWARE\Clients\Mail
"Outlook64Bridge"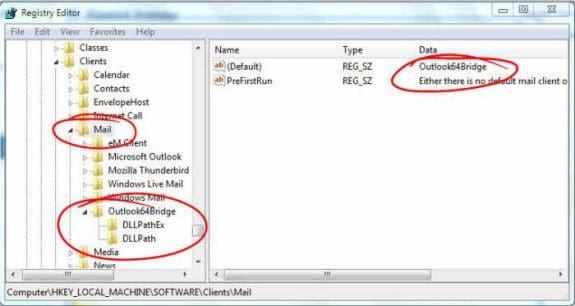 Internet Explorer is using Live Mail
Manual shared this information:
Got this box message every time I opened up Outlook 2016. I have Office 2016 Home & Business (32bit) installed. I have Outlook 2016 set as default in "Default Programs" and also
have it set as default in Outlook 2016 under the "General" tab.Open up Internet Explorer. Click open the tools sprocket in upper right. In the sub-menu pop up, select "Manage Add-Ons." When this window shows, click on the "Accelerators" tab in left pane. In the right pane, DISABLE "E-mail with Windows Live". That annoying message is now gone.
Because Windows Live mail client is no longer available, you can either disable, remove, or remove as default.