Microsoft Office 2010 SP1 is now available on Microsoft Update. Office 2010 SP1 contains all Cumulative Updates released through April 2011 and all Public Updates released through June 2011 for the various applications that are part of the Office suite.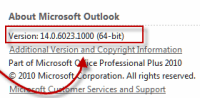 To check the version number of your installation, go to File, Help. The version number is displayed but not the service pack level. To see the familiar SP text, click on the Additional Version link under the Version number line.

In addition to the fixes listed below, SP1 contains additional improvements, including reducing the number of crashes, improving security, and fixing other issues that were too specific to include in this list.
Description of Office 2010 SP1 (MSKB)
To download and install, log into Microsoft Update and check for new updates. If you can't or prefer not to use Windows Update, you can download the SP1 package:
Microsoft Office 2010 Service Pack 1 64-bit
Microsoft Office 2010 Service Pack 1 32-bit
SP1 addresses the following issues which generated a number of complaints in public forums:
The ability to configure Outlook to always use the default sending account.
Fixes an issue with the snooze time not resetting to 5 minutes and restores the "before start options" found in previous versions.
Outlook warns of unsent messages still in the Outbox when closing. The method described in Unsent method to prevent accidental closing (still) doesn't work in Outlook 2010, but you can set Outlook to send the message in the future (i.e., 2020) instead.
The Quick Steps address book bug is fixed.
IMAP new mail icon (fixed by a previously released hotfix and included in SP1)
The long list of issues addressed is below.
What's not fixed in this update
This update does not fix the issue with plain text templates (Templates are converted to plain text messages) - the fix for this issue was released in a separate hotfix.
Activities not displaying Journal items was not fixed in SP1 either. Note that I am not hopeful that we will see any change to Activities at this point.
Issues fixed by the SP1 update
Snooze time: the old snooze options are back in Outlook 2010.


You can now select a default email account and it will be used for sending all messages.
Dual time zone bug affecting users swapping between DST and non-DST zones.
Reminders can be set for more than 24 hours without editing the registry.
All Outlook issues addressed by SP1
Many of these issues were addressed in previously released hotfixes and updates:
Quick Contacts appears empty in the To Do pane when the system wakes up from sleep/hibernation and Microsoft Lync 2010 is running.
When Outlook opens an e-mail message that contains pictures, the program tries to write files that have a .com file name extension to the Temporary Internet Files folder. This causes some anti-virus programs to mistakenly report that Outlook is trying to create an executable file.
Message tracking and read receipt features do not work in some configurations.
With Turkish regional settings, when you press "i", Outlook (online) grouped view either stops responding or jumps to the first entry with "J."
When you decline a meeting invitation but then click Cancel in the "Would you like to send a response to the organizer of this meeting?" dialog box, the meeting may not be recorded properly on the calendar.
When you open an email message (or view a message in the preview pane), and then you access the Autocorrect options dialog box, CPU usage spikes while the dialog box remains.
When you are trying to forward a meeting, the keyboard shortcut Alt+S does not work.
On Windows Vista or Windows Server 2003, Search index is disabled when it encounters a message attachment that has a very long name.
You cannot create new items in a SharePoint Calendar that is synchronized in Outlook.
Performance is reduced in the Remote Desktop environment.
A memory leak occurs when you use in-cell editing to edit properties.
When there are two attachments to an RTF message, the wrong attachment is opened.
Problems occur with AutoDiscover, Authentication, and Cross-Premise Delegation against Hosted Services. After the fix is applied, support is also added for "Nego2" Authentication.
Outlook cannot connect when you transition from RPC/TCP to RPC/HTTP.
NTLM passwords are not remembered for Outlook Anywhere on a computer that is not joined to a domain.
Outlook does not use the context of the default sending account when creating new items.
Outlook cannot be shut down.
After an upgrade, Outlook is no longer the default email client.
EmailScanner add-in causes Outlook 2010 to crash. The add-in is disabled by default after SP1.
The Nuance PDF Converter add-in causes Outlook 2010 to crash. Versions 1.x through 6.x of this add-in have been disabled in SP1. An update for the add-in is available from Nuance.
Chinese characters appear in the title bar, and cached Exchange delivery is broken after a mailbox is moved.
Memory problems cause search indexing to stop and not resume.
The Retention Policy of a folder is not displayed in "Use Folder Policy" when you apply the folder policy to an item.
A crash occurs after a call to ConfigureMsgService.
Outlook does not sync in a timely manner after a laptop resumes from sleep/hibernate mode.
Attachments to RTF email that were decrypted (after being encrypted through RMS) lose their position information and are lost.
Programmatically applied IRM templates are not displayed correctly.
The last snooze time is used as the default for a different appointment.
The email attachment limit can be exceeded. After the upgrade, the problem is fixed, and the limit is increased by a factor of 6.
The Quota Thermometer is not displayed for Online Archive stores.
The mail preview is still displayed after the last item is moved out of the Inbox.
Outlook crashes if an IRM message is received when IRM is disabled.
Time zone details are inaccurate after an upgrade from Outlook 2007.
Inadvertently loading recipient information on read-only items caused the program to stop responding.
Incorrect abbreviations are used in certain languages in the Find a Room feature.
Screen reader tools cannot differentiate between a single message and a conversation.
You cannot reply to a meeting from a POP account if the language is set to Turkish.
An error occurs when you decline a meeting through the OM.
Outlook stops responding while printing.
When you print an email message that has embedded images and another attachment, some images are printed twice.
The program crashes if you have "Internet free/busy" set up, and you click "refresh free/busy" in the meeting inspector on the Scheduling Assistant tab.
Retention policies set up on different computers cause a sync conflict.
Message size limits are not enforced for Simple MAPI messages.
When you configure an account by using the Office 2010 Customization Tool (OCT), you select to overwrite an existing account, but an additional account is created instead.
"Default reminder time" cannot be set to more than one day.
When using POP and IMAP accounts, when you have a rule that uses a template to reply to a message, no reply is sent.
The unsent message dialog box is not displayed when you close Outlook while there are message in the Outbox for POP or IMAP accounts.
Tasks are duplicated in the To Do bar.
You cannot join an online meeting if the meeting is made private or public after the reminder for the meeting has appeared.
Outlook crashes when you "reply all" to a message that has no recipients.
Messages get stuck in the Outbox.
The subjects and the locations of appointments are truncated in month view.
When the "Sent To: Me or CC: Me" command in the Search Tools Ribbon tab is used together with another query term, the results are incorrect.
You cannot sync mail or perform other actions that require information from more than one folder at a time on your IMAP server.
IMAP users cannot open email messages from a desktop "new mail" notification.
Tracking information is printed on the second page after the PrintTrackingPref regkey is set.
You cannot add attachments though the OM if you do not have an Exchange account.
When you are search for "items expiring soon," the results are incorrect in some language versions.
The end times of appointments are not printed when you print the calendar in the "monthly" style.
Email to contacts who are synched from a SharePoint list is sent in Rich Text Format.
When you receive a signed message and try to add the sender to your contacts so that you have their encryption certificate, the certificate is not added.
Outlook stops responding when you perform a search.
Calendar items in Public Folders cannot be marked as read by using the shortcut keys.
Outlook does not work with IPv6 and IPv4 combined environments and POP/IMAP/SMTP.
Some reminders are not removed when you try to "Dismiss all" reminders.
Outlook stops responding after you modify Automatic Replies (Out of Office).
NTLM authentication against POP and IMAP servers does not work when SSL is not used.
Sharing messages to internal users does not work in certain circumstances.
Daylight saving time setting is not correctly adjusted when you change time zones.
Automatic name completion stops working.
During startup, Outlook stops responding as it tries to access the address book.
"All Address Lists" container always returns 0 child folders through MAPI.
The New Message Quick Step does not allow access to the Outlook Contacts list for non-Exchange accounts.
Buttons on the Ribbon become unavailable after the background of an image is removed.
An item is lost when that item is moved to a folder that is in a different store.
Exceptions to a recurring series revert after a change is made to the meeting organizer's calendar.
Non-Outlook users cannot open encrypted messages sent from Outlook.
Attachments are not removed from the temporary folder at shutdown.
Attached S/MIME messages cannot be opened.
Add-ins cannot activate Ribbon tabs.