After creating a custom form, how do you save and use it?
You have two choices: you can use the File, Save as menu and choose Save as template (*.oft) in the file system or Publish it to a folder in your mailbox.
Which method you choose depends on the form.
Save as Templates in the file system
Simple forms can be saved as templates anywhere on the drive. You can double click to open them or copy them to a folder in Outlook for easy access.
Forms with custom fields need to be saved in the default Templates folder and opened using the Choose Form dialog. See How to Open Outlook Templates using Toolbar Buttons if you want to create a toolbar or ribbon button to open these forms.
Published Forms
Forms with code behind them need to be published. Instructions to publish forms and delete republished forms follow.
Publish A Custom Form | How to Delete a Published Form
Version the form
Before publishing (or republishing) a form you should enter a version number on the Properties page. Each time you republish the form, increment the number (usually in 1.2 format, but it's your form and you can use whole numbers, if desired.)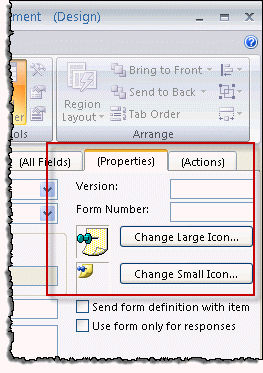 You can also change the icon. The default forms icons are stored under the FORMS folder in your Office installation; by default it's C:\Program Files\Microsoft Office\OfficeXX\FORMS\[lang-id].
Publish the form
To publish a form using Outlook 2007 and up, select Publish on the Developer ribbon. If you are publishing a new form for the first time, either Publish or Publish Form As will do. Use Publish Form As if you want to publish a custom form using a new name.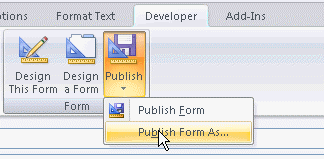 Enter a name for your form. You can use spaces in the name, however I prefer not to.
The default location for non-mail forms is Outlook Folders. This saves the form in the default folder for the item type. You can choose another folder (of the same type), if desired. When forms are published to the folder, you can select them from the Actions menu (older versions) or from the New Items > Custom Forms button.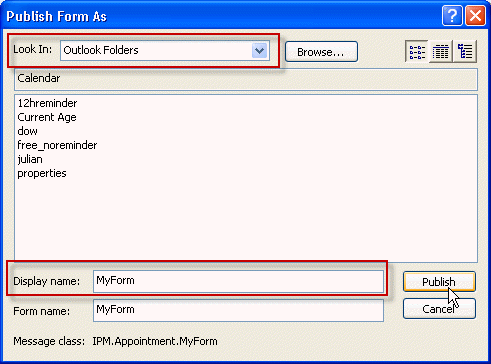 After publishing, the form is installed and ready to use.
Save as or Install *.FDM
While users of any version of Outlook can save, publish, or share custom forms as FDM files, most people will share custom forms as template files (*.oft). However, a bug in Outlook 2013 prevents users from saving some custom forms as templates (*.oft). In order to save a custom form in Outlook 2013, you need to publish it then save the published form as *.fdm file.
To save the published form as a FDM file, open the File, Options dialog, Advanced, and click the Custom Forms button, then Manage Forms. Locate the form you want to save, select it and click Save as.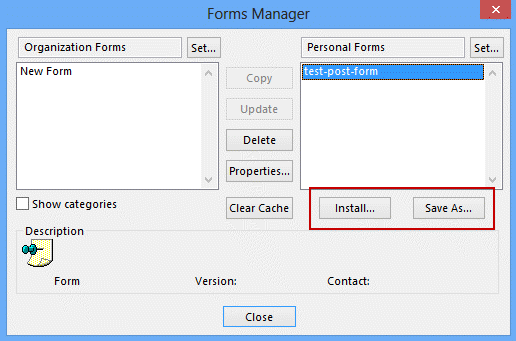 Repeat the steps to install a form: open File, Options, Advanced. Click on Custom Forms, then Manage Forms. Click Install then browse for the form.
Note: some forms will need to be in the default *.fdm location, %localappdata%\microsoft\outlook, to install.
While this is a few more steps than are necessary when you use a template, Outlook 2013 users can use this method to save custom forms to an Exchange server's Organizational Forms Library, as the Organizational Forms Library is not available as a Publish to location in Outlook 2013.
Published form locations
Outlook forms can be published to three different types of form "libraries":
Personal Forms Library of forms stored in your Personal Folders or Exchange Server mailbox.
Organizational Forms Library of forms stored on the Exchange Server for group use. You need permission from the Exchange Server administrator to publish to this library.
Folder Forms Library of forms associated with a particular folder, either in your mailbox or Personal Folders or in a public folder on the Exchange Server.
When a form is published to a folder, it's listed on the Actions menu when you are using that folder. To use the form, click on Actions, <form name>
Remove a Custom Form
To remove a published form in Outlook 2010 and up, choose File > Options > Advanced > Custom Forms > Manage Forms to access the Forms Manager dialog.
In Outlook 2007, 2003 or 2002 choose Tools > Options > Other tab > Advanced Options > Custom Forms > Manage Forms and use the Forms Manager that pops up.
Click the Set button and select the location where the form is published. Select the form and click Delete.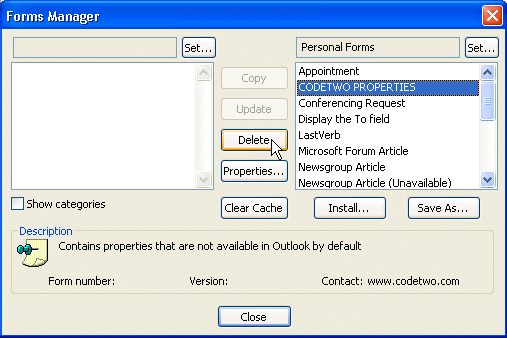 In Outlook 2000 or 98, choose Tools > Options > Manage Forms, and use the Forms Manager that pops up. (In Outlook 98 or Outlook 2000, this function is not available in Internet Mail Only mode, only in Corporate/Workgroup mode.)
Publish forms video tutorial
More Information
For more information on distributing forms, see How do I distribute Outlook forms to other users?