Internet-style quoting consists of putting a > or other character in front of the original message when you reply or forward it. Recipients can easily distinguish the original message from your comments. This method is preferred on many Internet mailing lists that transmit in plain text only
The default setting in current versions of Outlook in no quoting, no indentation. This can be changed to use a quote prefix, indent quoted messages, or attach quoted messages. We do not recommend using the Indent or Attach options.
Note that the quote prefix character (usually ">") is applied only to plain text messages. When you enable this option and reply to an HTML message, the quoted message is prefaced with a blue line.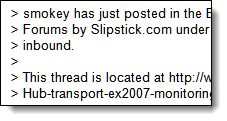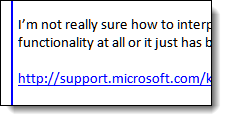 Outlook 98 or later | Other Tools | Notes | More Information
Outlook 2010, 2013, 2016
Choose File, Options, Mail
In the Replies and forwards section (about halfway down the dialog), choose Prefix each line of the original message.
Enter the desired prefix character in the Preface each line in a plain text message with: field.

We highly recommend using > as the character as its the commonly accepted quote-prefix.
Outlook 2007 and older
Choose Tools | Options. On the Preferences tab, click E-mail Options.
Under When replying to a message and When forwarding a message, choose Prefix each line of the original message.
Set the prefix character(s) under Prefix each line with.
Click OK twice.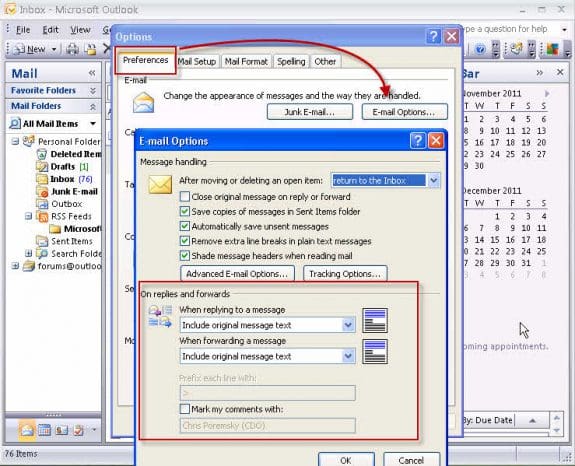 Outlook 2016 for Mac
Outlook for Mac doesn't support changing the reply format to include line prefixes. The only option is to indent or not (with separate options for HTML or plain text message format). Unlike Outlook for Windows, you can change the reply header format.
To access the options in Outlook for Mac, click on Outlook in the top bar and choose Preferences from the menu then click Composing.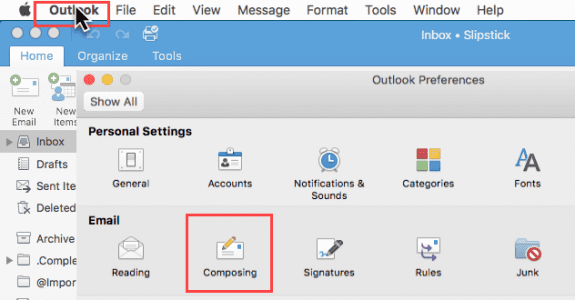 The only reply format option is to indent the original message (or not). This setting can be different for HTML and plain text messages. Outlook for Mac users also have the option to customize the reply header block.