An administrator had a question about disabling ribbon and toolbar buttons:
How can I disable the function "Edit Message" under Message, Actions, Other Actions?
You can disable commands using group policy or by editing the registry.
Group Policy is not limited to use by network administrators. Anyone can use it.
The policy key that is used to lock out ribbon and toolbar buttons is stored in the registry at HKEY_CURRENT_USER\Software\Policies\Microsoft\office\xx.0\outlook\disabledcmdbaritemslist
(Replace xx with the version of Outlook: Outlook 2016 is 16; Outlook 2013 is 15; Outlook 2010 is 14; 2007 is 12.)
The Control ID value is stored in TCIDn String values, where n is the order in which the command was entered.

"TCID1"="2577" 
"TCID2"="1886" 
"TCID3"="5613"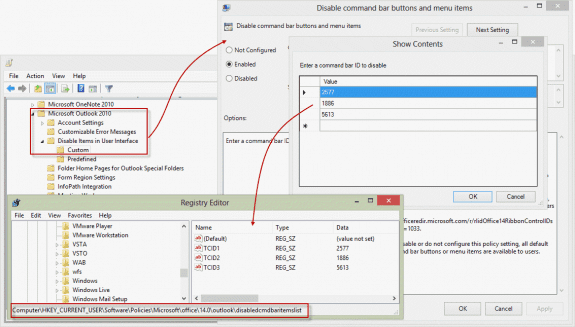 Disable the Edit Message command
The specific key to disable Outlook 2016's Edit Message is (when it's the first command disabled):

HKEY_CURRENT_USER\Software\Policies\Microsoft\Office\16.0\Outlook\DisabledCmdBarItemsList
"TCID1"="5604"

Do It For Me
If you don't want to edit the registry, I have a ready-to-use registry file you can download and run. Right click on the link and choose Save target as (IE) or Save Link As (Firefox). Double click to run it and add the values to the registry.
Outlook 2016: 5604 Outlook 2013: 5604
Outlook 2010: 5604 Outlook 2007: 5604
Command IDs
An Excel workbook containing all of the Control ID's for Outlook 2016 (most will work in Outlook 2013 & 2010) is available here. If the exact command exists for other versions of Outlook, the ID will be the same in those versions as well. (Microsoft has a series of Excel workbooks containing all of the Command IDs for all Office applications. Links are here.)
Below is a list of commonly disabled features or Control IDs I've previously looked up for one reason or another.
Most of the Control IDs are the same in all versions of Outlook (that use that command). If you know the Control ID for a command in Outlook 2003, there is a very good chance it is also used for that same command in Outlook 2016.
In many cases the Control ID applies to all methods of accessing the command. For example, disabling Import/Export on Outlook's File, Open menu also disables it in File, Options, Advanced. Keyboard shortcuts will usually still work; e.g. disabling the Delete button on the ribbon and right click menu does not block the Delete key.
Unless otherwise stated, the following commands work on Outlook 2013/2016 and up. They may work with older versions when the same command exists.
If you don't know the command's Control Name, filter for the Group name in the Group/Context Menu Name column of the Control spreadsheets.
Command
Control ID
Archive
(Clean up old items in Outlook 2016)
1886
AutoArchive
19701
Archive (new in Outlook 2016)
Disables, does not remove from ribbon
26308
Clean Up button
(ThreadCompressSplitButton)
21471
Clean Up Conversation
(ThreadCompressThread)
19507
Clean Up Folder
(ThreadCompressFolder)
19509
Clean up Folder & Subfolders
(ThreadCompressFolderRecursive)
19510
Choose Form
1910
Design a Form
5617
Edit Message
5604
Empty Deleted Items Folder
1671
Import/Export command
2577
Print
4
Purge Deleted Items (IMAP accounts)
12771
Recover Deleted Items
5654
Rules & Alerts
10012
Rules Wizard (older versions)
721
Work Offline
5613
Delete Folder
2500
Delete
478
Quick Print
2521
Help
984
Meeting Request Commands
The following Command IDs remove the accept as tentative options and Do not send a response from meeting requests.
| Command | Control ID |
| --- | --- |
| Request Responses | 1881 |
| Menu Tentative Invitation | 19992 |
| Tentative Invitation Edit Response | 19993 |
| Tentative Invitation Send Response | 19994 |
| Tentative Invitation No Response | 19995 |
| Tentative Accept Invitation | 1089 |
| Do Not Send a Response | 19987 |