OWA 2007 doesn't include a Print button. If you want to print from OWA, you'll need to use your browser's print functionality. Unfortunately, the results from the default settings leaves much to be desired as the dates and headers are out of alignment and even in landscape layout, the full calendar won't fit on the page.

If you take advantage of IE's print capabilities, you can get a nice looking printout for Day and Month views. The week and work work views are not perfect, but they more than usable.
For perfect printing capabilities, your administrator will need to install a third party utility. See Tools for a list.
Print from IE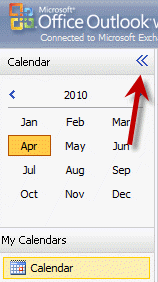 For best results, maximize Internet Explorer by double-clicking the Title Bar.
Select Calendar in the Navigation Pane.
Minimize the Navigation Pane by clicking the << at the top right corner of the
navigation pane.
Select the view you want to print (Day, Work Week, Week, Month). Click on one of the buttons or click in date/time period to bring focus to the calendar.
Press CTL + A on the keyboard to select the calendar.
Select File, Print Preview from the Internet Explorer Menu.
The IE Print toolbar should resemble this:

Press ALT + E to turn off the page headers (if desired)
Choose Landscape for the Month Calendar (ALT + L) or Portrait for the Day, Work Week, Week calendar (ALT + O).
Choose "As selected on screen". This prints just the calendar pane, not the navigation pane.
Click the last drop-down arrow (70% in my screenshot) and choose "Custom". By changing the percentage, you can better align the headers with the columns. If the headers are wider than the columns, decrease the %; if the headers are narrower, increase the %. You'll need to re-select these each time you print but the % should be the same every time, so you'll only need to experiment once.
Suggested starting points for Day and Week views is 55 - 65%, Month view is 70 - 80%.
When you are happy with the Print Preview image, click on the printer icon to print the calendar.
Restore the Navigation Pane by clicking the >> button.
Screenshot of the Monthly calendar:
Screen Print
Screen print will also work. While the printouts will include everything on the screen, they will be perfect. Note that there are screen capture tools that let you crop the image before capture, including the Sniping tool included with Windows 7 or Jing (from TechSmith).