Problem: After closing Outlook, it continues to run. Outlook can't close properly if another application is accessing Outlook's message store and you need open the Task Manager and End Process.
Symptoms which indicate that Outlook is not closing properly include receiving an alert telling you that Outlook is checking the data file when you open it. If you use two Outlook profiles, when you switch profiles, you aren't presented the screen to select the profile and Outlook opens directly to the first profile. Outlook may close and only the splash screen loads when you restart it.
Not sure how to open Task Manager? Right click on the Windows Taskbar and choose Task Manager. Select the Processes tab and look for Outlook.exe in the Image Name column.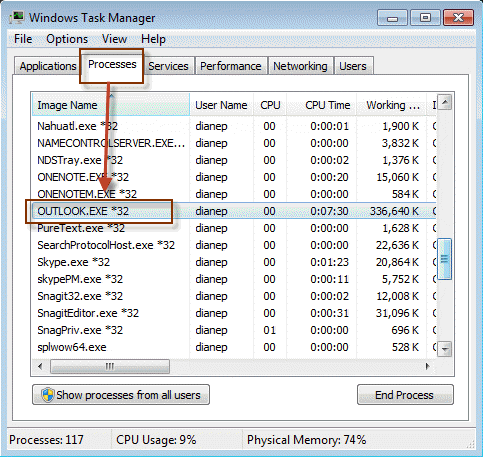 If you use an IMAP account in Outlook 2016 and newer, Microsoft is investigating an issue where outlook doesn't close properly. There is a registry key to use as a workaround.


HKEY_CURRENT_USER\SOFTWARE\Microsoft\Office\16.0\Outlook\IMAP
DWORD: AllowLOGOUTWithoutOK
Value: 1

If you don't want to edit the registry, I have a ready-to-use registry file available. Please note, this applies only to profiles with an IMAP account.
Beginning with Office 2007 SP2, Outlook addresses the problem and forces Outlook to close (most of the time), but you may need to wait a few minutes. This should eliminate most of the problems with Outlook not closing and the need to check the *.pst file on the next start; in addition, newer versions of Outlook are "better" about checking the data file for errors.
Below is a list of software known to cause problems in all versions of Outlook. This list is intended to give you an idea of what types of programs will cause Outlook to remain running, most often Fax software, anti-spam or anti-virus software, or PDA sync software. However, the culprit on your computer may be a different program.
See Disable Add-in or uninstall the software.
Add-ins | How to Disable Add-ins | Other Causes | Developer Information | Tools | More Information
Antivirus programs that support scanning email for viruses will tend to keep Outlook open. Disable email scanning and Outlook should close correctly. It's perfectly safe to disable this setting - it gives you advanced warning of viruses but as long as you can control your urge to open every attachment you receive, you'll be just as safe with it disabled. The antivirus programs that can affect Outlook include, but are not limited to, the following programs:
Kaspersky Antivirus Pro version 5
Panda AntiVirus Outlook Plug-In (pavexcli.dll)
Norton Antivirus with e-mail scanning and script blocking enabled.
Once you identify the program that is causing Outlook to remain loaded, check their support site for updates and additional information, or disable or uninstall the add-in.
Many spyware and adware programs hook into Outlook and other email clients. Removing them will usually correct the problem and allow Outlook to close properly.
Other user accounts
If you are trying to solve the problem of Outlook not loading, this story from administrator could point you in the right direction.
We installed Shoretel's Call Manager under the Administrator's account and later installed Office 2010 under the user's account. On other cases we had created a new user on the workstation and were attempting to run both apps under the new user's account.

When we removed Shoretel's Call Manager and reinstalled it under the account of the current user, the problem resolved and we could load and unload Outlook 2010 multiple times without any problem. In our environment Shoretel's Call Manager only reads Outlook's Contacts at startup to load it's own contact information. This should not effect one's ability to close and then reopen Outlook especially when everything works fine at first. Then when you add in the apparent sensitivity to having another app (Call Manger) installed under a different user account, it makes for a very bizarre scenario.
Add-ins which may keep Outlook open
The following is a short list of add-ins which are reported to keep Outlook running after it's closed.
Skype for Business
Outlook Change Notifier - Apple iTunes addin for syncing with iPhones, iPods etc.
WinFax Pro. Disable WinFax or remove the WinFax Fax log from the profile. Remove them by opening Tools, Options, Mail Setup tab, Data Files and delete if present.
Blackberry software
Stamps.com (when using address from Outlook's Contacts)
Franklin Covey Plan Plus
Mapilab's Messenger Journal utility
Earthlink's Spamblocker (the installation file is ELSBSetup.exe)
Outlook Attachment Sniffer
TechSmith's SnagIt 7 with Outlook integration enabled.
Cloudmark Spamnet
Fourelle Venturi Client
Internet Download Manager - uninstall
iProtectYou
TMAntispam - the antispam part of Trend Micro's PCCillin Internet Security 2005 suite
Infuzer
FSecure 2005 antispam add-in
Prophet 2004 (by Avidian) - check for updates
Intuit Quickbooks
iTunes calendar sync add-in
iPhone Add-in
ABBYY FineReader 9.0
WMPNETWK or sharing files within MS media player 11
Disable Add-ins
Before uninstalling or disabling add-ins, check for an updated version. It may fix the problem.
In Outlook 2010 and newer, go to File, Options, Addins.
Select COM Add-ins from the dropdown at the bottom of the dialog
Press Go.
Uncheck the add-ins you suspect might be keeping Outlook open
Close the dialog.
In Outlook 2007, you need to go to Tools, Trust Center, Add-ins.
Select COM Add-ins from the dropdown at the bottom of the dialog
Press Go.
Uncheck the add-ins you suspect might be keeping Outlook open
Close the dialog.
In Outlook 2003 and earlier, add-ins are found on the Tools, Options, Other tab.
Click the Advanced Options button.
Click COM Add-ins button and uncheck add-ins to disable.
While most add-ins are listed under COM add-ins, some may be in Add-in manager.
Return to Outlook.
Most add-ins will be listed in COM Add-ins, but a few may be listed under Exchange Client Extensions, which on the dropdown with COM Add-ins.
Office 2007 SP2 addresses the problem and forces Outlook to close. his should eliminate most of the problem with Outlook not closing and the need to check the *.pst file on the next start. Download it from The 2007 Microsoft Office Suite Service Pack 2 (SP2)
Other Causes
Setting Outlook's "Empty deleted items when closing" option can also cause Outlook to close slowly. Disable it in File, Options, Advanced (Outlook 2010 and newer) or in Tools, Options, Other tab (Outlook 2007 and older).
If the 'Empty deleted' setting is set via GPO, you'll need to disable it.
In addition, a corrupt *.SRS (send and receive profile file) appears to keep Outlook 2003 open (we don't believe it affects newer versions of Outlook). Find and rename the SRS for the profile. It's a hidden file found at C:\Documents and Settings\username\Application Data\Microsoft\Outlook. Paste this line into the Windows Explorer Address bar: %USERPROFILE%\Application Data\Microsoft\Outlook
To learn more about the files contained in this directory, see Outlook Backup and Dual-Boot.