Using Peeks is easy: click on Mail to open the Mail module. Hover over Calendar, People, or Tasks word to see a flyout or double click to open their navigation module. (If you use the Compact view, you'll see icons under the navigation pane, not the words.)


Click on the pushpin in the upper right to pin that peek open on Outlook's right edge.
Click or right-click on the three dots to open the Notes module, Shortcuts, or the Folder list and to access Navigation options.
You select today's date in the calendar peek to see all day events and upcoming appointments for 'today' and up to the next 7 days.
Select any other date in the calendar to see all day events and appointments due that day.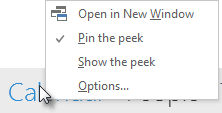 Right click on a word to see options:
Open in New Window
Pin the peek
Show the peek
Options (opens the Options dialog)
All Day events are gray on the Peek; they do not use the color category color.
Compare Peek and the To-Do Bar
The Calendar peek is limited compared to the To-do Bar:
It shows only the selected day's appointments and upcoming appointments for the next 7 days. You cannot limit the number of upcoming events. (Update required to see up to 7 days of appointments.)
You can see only one navigation calendar at a time
The navigation calendar doesn't support dragging messages to create appointments on a specific date.
Dragging a message and hovering over the word "Calendar" will not open the calendar navigation pane. (You can drop the message on the calendar name or button to create a new appointment on the default calendar.)
You cannot interact with the appointments in the peek or pinned peek by right clicking on the appointment.
All day events are gray; they do not display on the peek using the category color.
You can drag to the word "Calendar" (seen in the screenshot) to open a new appointment with 'now' as the default time and date. Right-click & drag a message to "Calendar" and you'll see options to create new appointments as text, shortcut, attachments etc.
Pinning the peek to replicate the To-do Bar (which we've had for the last two versions) is a multistep process. You need to pin each peek individually (and unpin individually) and once pinned, it applies to the current folder type only. For example, if you pin the calendar open when viewing the Inbox, it's open in all mail folders but not shown when you view the tasks folder.
Need to look over the next 3 months? In Outlook 2007 you can drag the edge of the to-Do Bar inward and see multiple navigation calendars.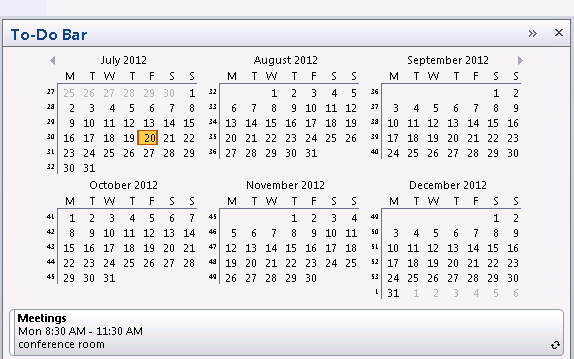 Do this with a pinned peek in Outlook and you'll still see just one month.