Bcc = blind carbon copy. You use the Bcc field (Options | Bcc Field) to enter addresses when you don't want recipients to see who the message was distributed to. The person receiving the message will see only those addresses that you put in the To or Cc box.
Display the BCC field on messages
If you click the To button to select names, you can select the names then click on the Bcc button to add those names to the BCC field. After the first name is added to the BCC field, you can double click on additional names to add them to the BCC field as the last used field stays active until you click another button or compose a new message.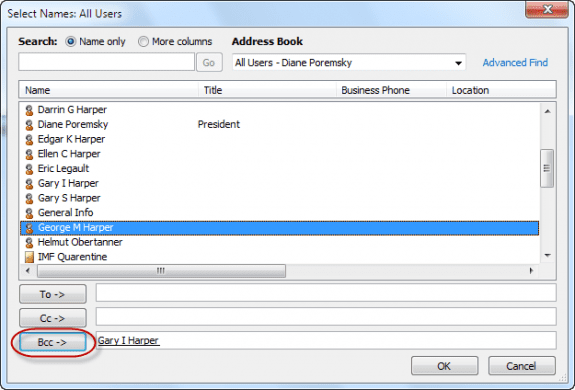 If the BCC field was not yet enabled (by clicking on Options, BCC), adding names to the BCC field using the address book will show the BCC field on the message form.

View the BCC field on Sent messages
Note: The BCC field will not display in the Reading pane.
To see the Bcc addresses for messages that you sent, open the message from the Sent Items folder. In newer versions of Microsoft Outlook you should see the BCC field automatically when it contains names.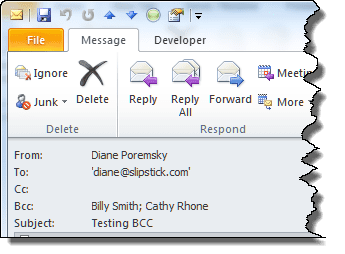 In older versions, open the message and enable the BCC field on the Options dialog.
You can also add the BCC field to the message list to see the names. You may not be able to see all Bcc recipients using this method if there are many names on the BCC.

Note: When you use Gmail IMAP accounts and save the sent items on the Gmail server, you may not see the BCC names on sent items. If you can't see the BCC when you add the BCC field to the view, you need to save sent items locally if you want to see the BCC names. Other IMAP servers may behave the same way, but in the servers I have access to, only Gmail accounts don't show the BCC addresses. Gmail accounts in Outlook 2016 show the BCC entries in the message list (after you add the field to the view.)
Printing the BCC addresses
Printing the message with the BCC field visible is more difficult - to print the BCC field in you need to customize the message form to allow printing.
The easiest way to print the BCC'd addresses is to hit Forward then copy the BCC list from the sent message and paste it into the message body in the Forward, then print and close the message. Alternately, you can open the sent message and go into Edit mode, paste the names into the message body and print.