A very common question on forums and mailing lists is how to send email to many people without exposing all the addresses to all of the recipients.
I have a distribution list with many contacts. When I send an email to the entire distribution list, I do not want everyone's email being in the TO: so that everyone getting the email sees all the email addresses.
There are two ways to do this: use the BCC field or use Mail Merge. Which method you choose depends on your needs and situation. In the example quoted above, the user have one choice: BCC field, because the addresses are in a distribution list and you can't use a distribution list as the source for a mail merge.
Use BCC
To use the BCC field, click the To button in the open message and select the distribution list (aka contact group) or individual addresses then click the BCC button at the bottom of the dialog.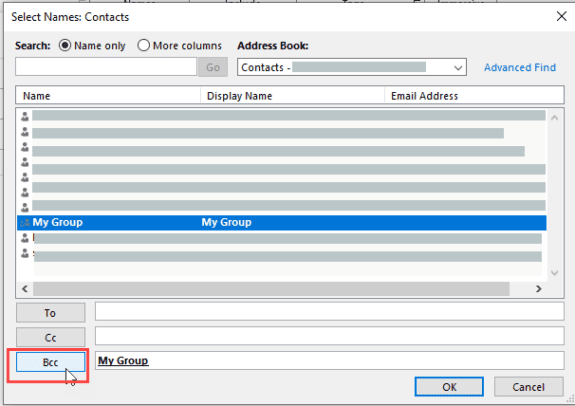 Pros: It's quick and easy to use.
Cons: Antispam filters are more likely to mark the message as spam or assign spam points because the To field is blank. Adding your address (or an address you control) to the To field may help. Some mail servers limit the number of messages you can have on a message.
When you use the Address book to add people to the BCC field, the field will show on the compose form. If you want to use autocomplete to add the BCC addresses, and the BCC field is not showing on the message form, enable it on the Options tab. To hide the field, click the BBC button to toggle it off.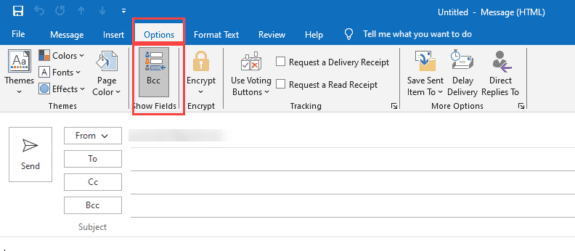 Mail Merge
Using mail merge will eliminate the negative effects of using the BCC field: messages are less likely to be marked as spam and since you are using one address per message, you won't have to worry about too many recipients. However, you can't use a distribution list as the contact source for a mail merge, You need to use contacts or a list of addresses. Fortunately, a list of address is fairly easy to get from a distribution list - just click Forward, As Internet vCard then open the text file on the resulting message.
Pros: Can personalize the message with first names and other information stored in contacts. Can filter in Outlook and merge only the selected contacts.
Cons: Takes a little longer to prepare the message and send it.
Note that some mail servers throttle outbound mail, either by limiting the total number sent per day or the amount you can send per minute or hour. If your mail server limits the number of messages sent within a time frame, see the Tools lists below for add-ins that can control how fast the mail is sent.
Tools in the Spotlight
| | |
| --- | --- |
| Merge Tools Add-in | Mail merge tools Word add-in by Microsoft Word MVP Doug Robbins. Merge to e-mail messages either with or without attachments, with the documents created by the merge being sent as either Word or PDF attachments or as the body of the e-mail message. And more... |
Tools
| | |
| --- | --- |
| 4Team Send2 | Create distribution list and send bulk e-mail to recipients by pulling out them from selected Microsoft Outlook folders, e-mails, contacts, meetings, or tasks in one click. Plug-in integrated in Microsoft Outlook actions menu, shortcut menu, into toolbar, and right-click item menu. Add recipients to Distribution list that already exists. Add recipients to new e-mail "To", "CC", or "BCC" field in one click. Time-saving tool for routine tasks. Version 1.41 |
| ContactMonkey | ContactMonkey brings advanced email tracking and Salesforce integration to Outlook. Use Mail Merge to track email campaigns by bringing all the tools you need to track your emails directly to your Inbox. |
| Easy Mail Merge for Outlook | Easy Mail Merge for Outlook gives you the power to fully personalize email messages and quickly deliver individual emails to your contacts list, being the perfect solution for your mail merge needs, such as personalizing email newsletters, business announcements, marketing emails or any other emails that need to be customized and individually sent to a large number of people. |
| EmailMerge Pro for Outlook | Create and send personalized individually addressed e-mail messages using an easy Wizard in Outlook - plain text, HTML or rich text. Your recipient list can be in Outlook, Exchange Global Address Lists, Excel or Access files. You can use Categories or Distribution Lists to keep mailing lists. You can even defer and batch send your emails to get around ISP restrictions. Outlook based solution for e-mail newsletters, business announcements and sales & marketing emails. Supports Outlook 2000, 2002, 2003, 2007, 2010, 2013 and 2016 (32 and 64bit). |
| EmailMerge.cc | EmailMerge.cc lets you generate customized Outlook email messages from a text template (either plain text or for formatting a Word DOCX or HTML file) and data in a Microsoft Excel spreadsheet with multiple recipients in the To, CC and BCC fields. You can also send attachments, send High or Low priority emails, and choose which From address to send from if you have multiple From addresses available in Outlook. |
| Envelopes For Outlook | Envelopes for Outlook is an add-in that places a button on each MS Outlook contact toolbar for simple one click envelope printing. Outlook 2003 to Outlook 2016 are supported. POSTNET barcodes and logo printing supported. |
| Mail Merge Toolkit | Generate individual messages to Outlook contacts from documents designed in Word or Publisher, including messages in GIF format with image maps. Allows you to add attachments and generate a custom subject for each message using merged data. Does not trigger Outlook security prompts. |
| OLNewsletter | Mail merge to email with support for attachments, pictures, and HTML hyperlinks. Messages are stored for later reuse. Does not trigger Outlook email security prompts. |
| Outlook Mail Merge Attachment (OMMA) | Outlook Mail Merge Attachment supplies the mail merge process in Microsoft Office Word and Outlook with the functionality to add an attachment. The script is tested on Microsoft Office 2003 and 2007. (Free) |
| Personalized Emails 4Outlook | Email Merge Personalized Individually Addressed Invitations, Greetings and Sales Letters at the click of a button. Supports Outlook 2000,2002, 2003 and 2007, with or without Word as Editor. |
| QNewsletter | QNewsLetter is a simple to use mail merge add-in for Outlook. With QNewsLetter you can send personalized emails. |
| Send Individually | The Sperry Software Send Individually Add-In for Outlook sends email newsletters and other marketing to each of your recipients with just their name in the To field, similar to mail merge. It allows attachments to be on the email and it supports sending from different From accounts. Now reads Excel files directly, including CSV files. It also allows for using a BCC function so you can work with 3rd party CRM systems and, you can specify a different file in each row of your Excel spreadsheet and the add-in will find that file and attach it to just that recipient's email. |
| Send Personally | Mass mail tool that expands Outlook distribution lists and sends an individual message to each member of the list. Can exclude certain names from the DL. Has some mail merge capability for inserting personalized text in the body of messages. Outlook 2000 or later. |
| Topalt Mail Merge for Outlook | Quickly send mass emails while retaining the individuality of each message. The specialized Outlook plugin button acts immediately to display only the individual receiver's name when they get their mail. |
| WorldMerge | Bulk mail program that sends an individual message to each recipient. Can use Outlook data, as well as many other sources. Can attach up to 20 files, even to HTML-format messages, and use merge fields to build the message subject. Does not trigger the Outlook security prompts |
| Yesware | Email and presentation tracking, email templates, and Salesforce integration for Outlook 2010, 2013, & 2016 on Windows. |