Thanks to the new simplified Account Setting dialog in Outlook, the password field and server settings are no longer accessible through the File, Account Settings dialog. While Outlook will ask you to enter the password on the next send and receive, you can use the Reset Mail Settings button in the bottom left of the dialog to reset the account.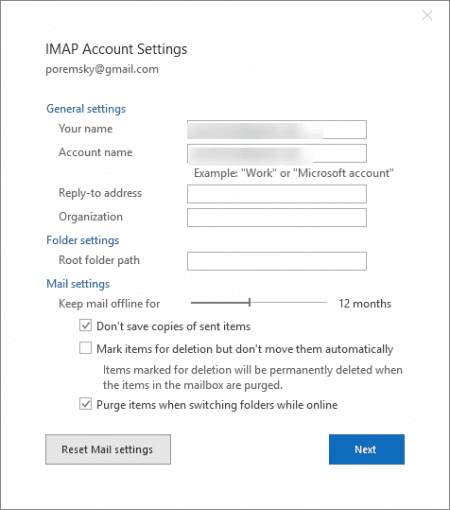 Note that you can only change POP3, IMAP, and SMTP passwords using these methods. Outlook.com, Office 365 Exchange online, and other Exchange users will need to wait for Outlook to ask for the password. You can also delete the credential from Credential Manager to force Outlook to bring up the password dialog.
If you want to check the server and port settings, customize IMAP Sent and Deleted folder settings (yes, these options are back) or change the password before Outlook asks for it, you can access the full account settings dialog through the Send and Receive settings dialog. Accessing the properties dialog from Send/Receive Settings is not new, but for the most part, it was just another way to get into properties dialog.
Press Ctrl+Alt+S to open Send/Receive settings. (You can also open it from File, Options, Mail or from the Send/Receive menu > Send/Receive Groups > Define Send/Receive Groups.)
Click Edit.

Select the account
Click Account Properties to open the Internet Account Properties dialog.

Enter your new password on the email tab then click OK to save and close the dialog.
Change the password through the Profile dialog
You can also access the old dialog through the profile setup dialog, accessible through File, Account Settings, Manage Accounts or Control Panel, Mail.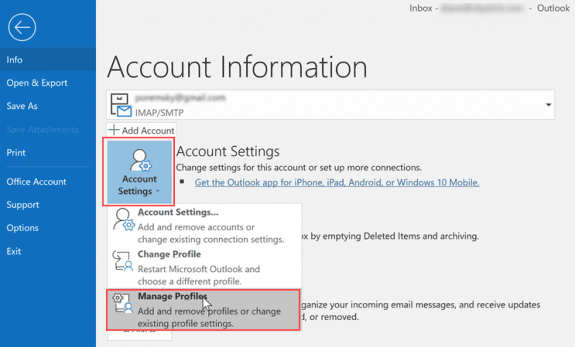 After opening Mail Setup dialog, click Email accounts (or the Show Profiles button if you have more than one profile).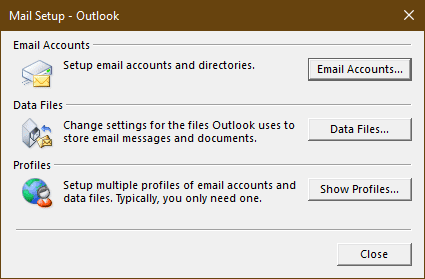 Double click on the account name to open the older Change Account dialog.