I discovered this little bug back in February when BCM 2013 was released and it's high time I wrote about it, especially since it appears to be stuck with us for at least a few more months. Autonomy EMM, Phrase Express (and possibly other addins) are also at-fault.
When BCM 2013 (aka Business Contact Manager Compatibility update) is installed, Outlook's notes have toolbars, as seen in this screenshot.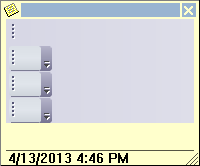 At this time, the only solutions are to live with it or disable the add-in that triggered this.
While you can right click on the toolbars and deselect them, leaving just one bar, or even drag the toolbars around and reduce them to 2 rows, the changes won't "stick". When you reopen the note, the toolbars will be back in this stacked position.