An Office 365 administrator had a question about the "signature" feature in Exchange online:
We are using Office 365 and recently created a signature rule in mail flow. When I send a new message, the signature is at the end of the message. But when I reply, it is at the bottom of the whole conversation.
When you use mail flow, you aren't adding a signature, you are adding a disclaimer. These are always added at the end of the message; Exchange doesn't split the message to insert it within the message, it just stamps it on at the end.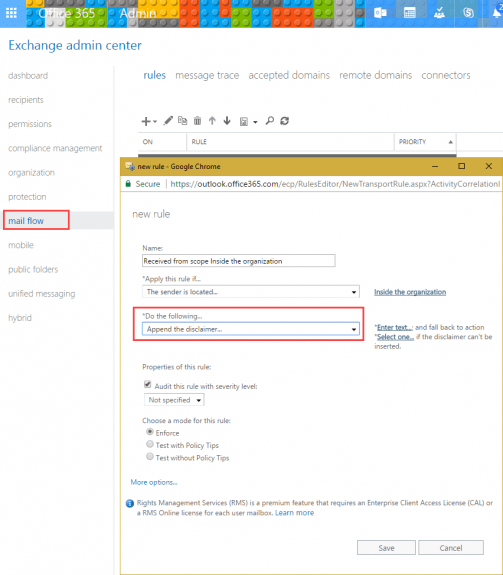 You have two choices for a company-wide signature: push out the signature files using a logon script or use a centrally managed signature solution from CodeTwo,

Exclaimer, or others. The advantage of the commercial products is that all messages, even those sent using Outlook on the web or using smartphones, will have the signature added. These programs make it easier to edit the signatures and apply the changes to everyone.
| | |
| --- | --- |
| CodeTwo Email Signatures for Office 365 | CodeTwo Email Signatures for Office 365 is an easy-to-use email signature manager for Microsoft 365 (Office 365) that allows you to implement both server-side signatures (added after a message is sent from any email client or device) and client-side signatures (added as you compose a message in Outlook). This cloud-based solution fully integrates with your Microsoft 365 tenant and provides organization-wide management of users' email signatures and disclaimers, personalized with Azure Active Directory data. Other features of the program include an intuitive HTML signature template editor, signatures visible as you type an email and in Sent Items, integration with CSAT surveys, user photos in signatures, and more. Start your free 14-day trial today. |
| CodeTwo Exchange Rules 2019 | CodeTwo Exchange Rules 2019 is a solid solution for central email signature and disclaimer management for Microsoft Exchange Server 2019 (including support for Server Core version of Windows Server 2019). The program operates on the server side and integrates with Active Directory to add personalized HTML signatures to emails sent from any email client or mobile device. CodeTwo Exchange Rules 2019 extends the native set of conditions, giving you more flexibility in email signature management. With the built-in signature editor, you can easily create advanced email signatures with clickable banners, social media buttons, user photos and more. |
Tools
| | |
| --- | --- |
| Adolsign | Adolsign creates AD-aware Outlook signature files. Adolsign can scan signature templates in html, rtf or plain text format, replace scan codes with equivalent fields in Active Directory and places processed templates into Outlook's signature directory. It now offers vCard support and multiple signatures via domain group membership specified in the configuration file. It is a command line based utility, making deployment easy via login/startup scripts or software distribution systems. Version 2.6.5 |
| CI-Mail-Policy | CI-Mail-Policy is a rule-based email action framework which allows you to control email flow and apply policies to messages which pass the Exchange Server. Centrally manage actions such as adding email signatures / disclaimers to emails sent from any devices (including smartphones), sending auto-responders, redirecting messages, rewriting sender's addresses, rejecting or silently deleting messages and many more. Actions can be filtered on Active Directory Groups, OUs and other AD attributes. Free & fully featured trial. |
| CodeTwo Exchange Rules 2007 | CodeTwo Exchange Rules 2007 is an all-in-one signature and disclaimers management tool for Microsoft Exchange Server 2007. It is designed for adding and managing email signatures centrally depending on Active Directory conditions. CodeTwo Exchange Rules 2007 enables HTML formatting and easy insertion of graphics or even Active Directory photos to the signature template. The program integrates with Active Directory and lets you incorporate dynamic fields in users' signatures that are replaced with their data on the fly. Comes with a rich library of predefined signature templates and with a Rules Tester to test your settings. |
| CodeTwo Exchange Rules 2010 | CodeTwo Exchange Rules 2010 email signature and disclaimer system enables professional design and implementation of corporate signatures in an Exchange Server 2010 organization. Use the Rules Tester to test the signature rules in a non-production environment. Rights management options make it possible to delegate the design of corporate signatures e.g. to the marketing department or graphic designers. CodeTwo Exchange Rules 2010 allows adding personalized QR codes to signature templates and supports national character encoding. |
| CodeTwo Exchange Rules 2013 | CodeTwo Exchange Rules 2013 enables administrators to add unified disclaimers, signatures and branding to emails sent from Exchange 2013 accounts - all without touching end-users machines. Compatible with all popular mail clients and mobile devices. It offers a graphical interface and a library of signature templates and graphics. Editing rights management make it possible to delegate the design of corporate signatures e.g. to marketing departments or graphic designers. CodeTwo Exchange Rules allows adding personalized QR codes to signature templates and supports national character encoding. |
| CodeTwo Exchange Rules 2016 | CodeTwo Exchange Rules 2016 enables central management of disclaimers added to all emails travelling through the Microsoft Exchange 2016 server - no matter what email client or mobile device they are sent from. Use extended rules criteria in CodeTwo Exchange Rules 2016 to add disclaimers to only specific emails that meet certain conditions. The built-in signature editor allows to create advanced footers that are updated with user's Active Directory data on the fly. |
| CodeTwo Exchange Rules Pro | CodeTwo Exchange Rules Pro goes beyond standard transport rules on Microsoft Exchange 2019, 2016, 2013, 2010 or 2007 and lets you fully control mail flow, filter messages as well as add signatures and branding to your business emails. It gives you everything Exchange offers plus a lot of advanced features Exchange is missing, which admins consider a must-have in their daily work. Quickly create email forwarding rules for groups, set up auto-responders, filter or block incoming and outgoing messages, control email contents, rewrite sender's addresses, tag messages, add signatures and disclaimers, and more. |
| DisclaimIt | Rule-based disclaimers and other outgoing message processing for Exchange 2000 and Windows 2000 systems running the IIS SMTP service. Can handle both plain text and HTML disclaimers. |
| Email Signature Platform | Create professional and branded email signatures and manage them across all devices and email systems through the Xink platform. |
| GFI MailEssentials for Exchange | Anti-spam, disclaimers (with variables), archiving Internet mail, Internet mail usage reports. Includes a POP downloader and personalized server-based autoreplies that can include attachments and tracking numbers. Can archive to an ODBC database. Current version includes Overall improved anti-spam technology, an additional anti-spam engine called SpamRazer along with improved performance and a real-time dashboard. GFI MailEssentials now supports GFI Directory, enabling administrators to manage users just like they would with Active Directory when installed in a DMZ. |
| InsertText 4Outlook | InsertText reduces the time it takes to write and respond to emails while also increasing the accuracy. InsertText gives you the fastest way of creating and using templates/pre-written responses in Microsoft Outlook. Write templates that you can reuse later or insert repeated text/graphics fragments or create new emails directly from templates. Much more than just copy & paste and easy to use even if you have hundreds of templates. Your templates can include email specific fields such as the message, Subject, To, CC and BCC fields. Works inside Outlook and from the System Tray. Version 3.0.20 |
| Mail Signature Manager | Deploy standardized signatures and disclaimers to Outlook and Outlook Web Access, pulling contact information from Active Directory or a database. Does not require software installation or changes to servers or workstations. Deploy via logon script or AD. Signatures visible to users in both Outlook and Outlook Web Access. Built-in editor for designing HTML, RTF and Plain Text signature and disclaimer templates. Include the same disclaimer with different signatures, and include scheduled news, marketing or special offers in signatures. Supports Outlook stationery. Free evaluation version. |
| MAPILab Disclaimers for Exchange | MAPILab Disclaimers for Exchange is a solution for Microsoft Exchange Server 2013, 2010, 2007, 2003, intended for the centralized management of signatures and disclaimers in corporate mail messages. MAPILab Disclaimers for Exchange will help not only to meet email messaging standards and requirements, but also will transform each outgoing message into an effective marketing tool by adding the necessary text and graphic information about your company. |
| QS Disclaimer | QS Disclaimer can add disclaimers to mail sent from any client, such as Outlook, Mail, Outlook Web Access, Apple Mail or even handheld devices and Smartphones, as long as the message is sent via Exchange or the SMTP Server. A disclaimer and signature editor is included which lets you add images and HTML to make disclaimers or signatures that stand out. You can also add Active Directory fields to make a signature specific to a user. Disclaimers and signatures can also be controlled by groups of users. Free trial available. |
| Subscriptio | Subscriptio is a complete solution for central e-mail signature management. All this can be done from the cloud. Works with Outlook, Exchange, Google Mail, Windows Mail. |
| TagExternal | In Exchange 2013/2016 you can mark external messages using a transport rule. The common way to do it is to prepend a Subject line or a message text with a tag. TagExternal does not change the subject line and body to mark a message but assigns a special user-defined category to a message. |
| VIPRE Email Security for Exchange | Email security software for Exchange featuring world-class antivirus, antispam, and a powerful, granular attachment filter. |
| XtraBanner | XtraBanner is an E-mail enrichment solution for Microsoft Exchange 2007/2010 servers. The software adds banners, disclaimers and ads to your organization's e-mail correspondence - both internal and outgoing. Distributed architecture supports multiple configurations, including: single server, multiple hub transport servers, edge servers. A fully-functional 30-day trial version is available for download. |