Outlook 2013 has a new feature: Reading Pane Compose, which allows you to compose reply and forwards right in the reading pane, rather than opening a new window to write your reply.


To compose in the reading pane, you click the buttons at the top of the reading pane. If you need to use a new window, you can click the POP OUT button. (The Reply / Forward buttons in the ribbon have the same behavior as the reading pane buttons.)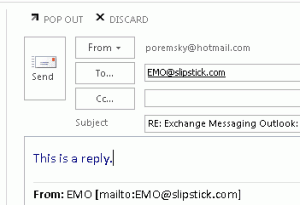 Reading Pane Compose Tips
Drafts are saved in the Drafts folder for the account and are visible if you leave the message in the compose window and return.
If you need to review the message you are replying to, you need to pop the message out of the window. You can't select original message in the thread while you have the reply in the reading pane.
Disable Reading Pane Compose feature
If you don't like this feature you can turn it off in File, Options, Mail. Find the Replies and forwards group and select the option to Open replies and forwards in a new window. It's about halfway down the page.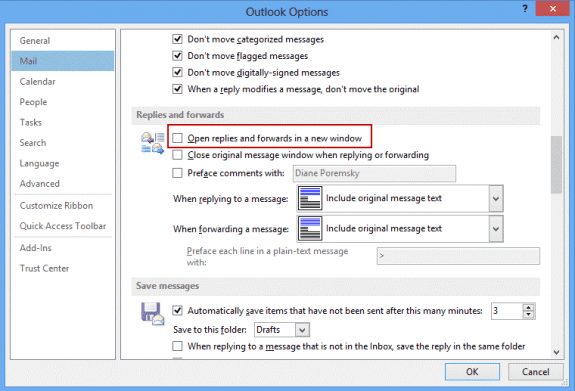 The buttons in the reading pane are not removed but will open a new window.
DisableReadingPaneCompose Registry key
You can also disable reading pane compose by editing edit the registry or use group policy to disable it in a network environment. Note that you will need to restart Outlook for the change to take effect.
HKEY_CURRENT_USER\Software\Microsoft\Office\15.0\Outlook\Message
DWORD: disablereadingpanecompose
Value: 1
If you don't want to edit the registry yourself, you can download and run this registry file. (You may need to right click and choose Save Target as.)
Group Policy
If you use group policy to set this value, the key is under Policies:
HKEY_CURRENT_USER\Software\Policies\Microsoft\Office\15.0\outlook\message
DWORD: disablereadingpanecompose
Value: 1