This question came from a user who upgraded from an older version of Outlook, which had Forward and Back buttons on the Advanced toolbar. These commands allowed the user to move to between previously used folders easily, like the forward and back buttons in a browser move you between previously viewed web pages.
I can't find how to add Go Back and Go Forward buttons to the Outlook home screen, preferably in the Quick Access toolbar. They don't appear in my Customize menu.

When Outlook 2010 moved to the ribbon interface, these commands were not added to the ribbon but they are available to customize the Quick Access Toolbar (QAT) or the ribbon. Look for the Forward and Back commands under All Commands in the customize dialog.
Open the Customize dialog then select All Commands in the Choose Commands from list.
Tab into (or click in) the list of commands and type B. This should select the Back command (with a right arrow icon).
Add it to the ribbon or QAT.
Click in the commands list and type G. This will jump you down to the first G command; scroll up a little to find the Forward command (with the straight left arrow icon).
Add it to the ribbon or QAT.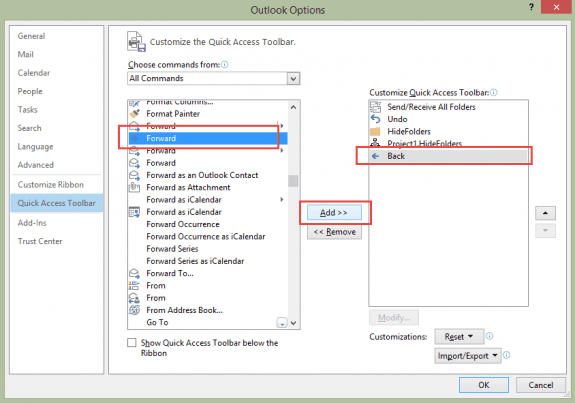 I recommend adding these commands to the QAT so they are visible in each module. If you add the commands to the ribbon, you'll need to add them to the ribbon used by each module or add them to a custom ribbon.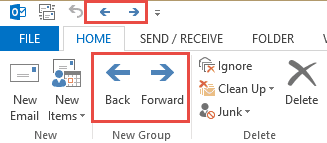 If you prefer to use keyboard shortcuts, the Alt + Left Arrow and Alt + Right Arrow keys will move you back and forward.