Many people purchase the Home and Student version of Office because its cheap then discover Outlook is not included in the suite. They purchase a copy of Outlook to use with Office but discover some features don't work.
Others like some new features in Outlook but decide they don't want or use the other Office applications enough to justify the cost of upgrading the full suite, so they buy Outlook to use with their older version of Office, only to discover the features they really liked are not available when Outlook is not installed as part of a suite.
Disabled Commands in the Ribbon
The grayed commands in these screenshots do not work when Outlook is not installed as part of a suite.
Review Ribbon - Themes (and individual theme features)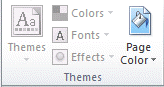 Options Ribbon - Thesaurus (and Grammar checking features)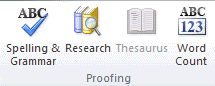 Insert Ribbon - Tables, Clip Art and Shapes, Word Art and related features, Equation editor.

Features that are missing or won't work as expected
When only Outlook is installed (or its not installed as part of an Office suite) the following features will not work as expected. They may or may not work to some degree. For example, spell check as you type (with the red underlines on misspelled words) is not available but F7 and spell check on send will work.
Themes: Themes are disabled and you can't set stationery (in File, Options, Mail, Signatures & Stationery) as the default for new messages. You can edit the registry if you want to use specific stationery as default. See Set Stationery if you want to use a default stationery.
Automatic formatting of bulleted and numbered lists:  Bullets, numbering, and outlines are not automatically detected and applied. I.e., typing "1. " will not create a numbered list automatically.
Automatic formatting of tables: The Insert table button is disabled. You can paste tables copied from other documents or use borders to create a table.
Proofing tools like the spell & grammar checking, and thesaurus: Spell and grammar check as you type does not work but F7 and spell check on send will work. See Spell Check Workaround for a solution that works for some users.
SmartArt graphics, drawing, charting, and diagramming tools (including the Screen clip tool)
Captions
Equation Builder
Set Stationery using the Registry
You can't set stationery to use as the default on new messages using the Stationery dialog but you can set stationery by editing the registry.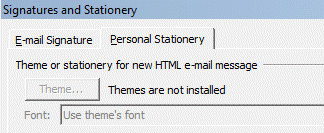 HKEY_CURRENT_USER\Software\Microsoft\Office\ 14.0\Common\MailSettings
Expandable String: NewStationery
Enter name of stationery as the Value

Use the name as seen the the stationery picker. Do not include (Stationery), which follows some entries.

The stationery picker lists only the stationery in the Roaming path, C:\Users\username\AppData\Roaming\Microsoft\Stationery. If you make your own stationery, you'll need to put it in this folder. Do not use the My Stationery folder under My Documents!

Outlook and Home & Student
When Outlook is installed with the Home & Student suite, many of the missing features will be made available.
Outlook features disabled when installed with Home and Student
Note that the above does not apply when you install an older version of Outlook with Office Home & Student. Outlook and Office need to be the same version.
Spell Check Workaround
If you use a different version of Outlook and Office, copy the winword.exe file (for example, C:\Program Files\Microsoft Office\Office12) to the folder where Outlook.exe is (usually C:\Program Files\Microsoft Office\Office14), then restart Outlook. This should allow most of the missing features to work, especially grammar and spell check as you type.