Users are reporting duplicate copies of messages in their sent folder:
Our accounts consistently get double messages in the sent folder. The recipient only receives one copy, but there are always two in the sent message folder.
The cause of this phenomenon depends on the type of email account involved.
In the case of IMAP accounts, Outlook saves a sent message in the IMAP account's Sent message folder and your IMAP mail provider may also save a copy. The result is two messages in the Sent Items folder every time you send a message. This seems to be most common with Gmail and Yahoo-hosted accounts but other IMAP accounts may be affected as well.
Change the IMAP Account's Sent Options
If you are using Outlook 2016/2019 and have the Simplified account setup dialogs, you'll need to check the Advanced settings from Manage Profiles. This is the control Panel > Mail dialog, but you can open it right from Outlook: Go to File > Account Settings > Manage Profiles. Click the Email accounts button, double click on your account then click More settings.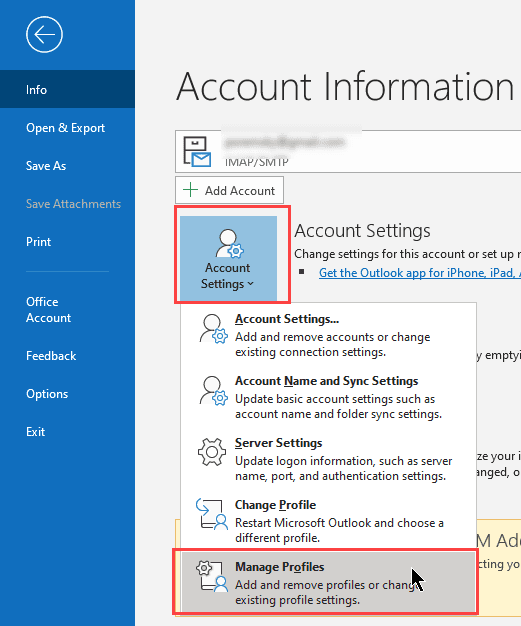 In Outlook 2013, to check your settings for saving Sent items, open File, Account Settings. Double click on your IMAP account then click More Settings. In Outlook 2013 and 2016, look on the Advanced tab.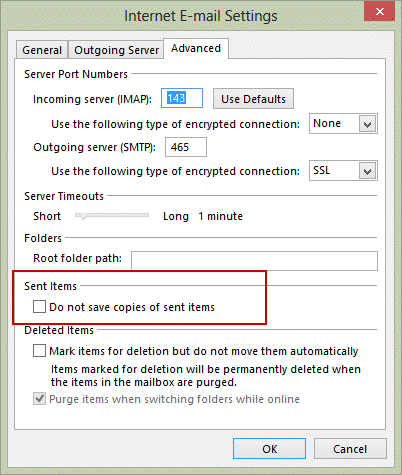 In Outlook 2010, check the options on the Sent Items tab.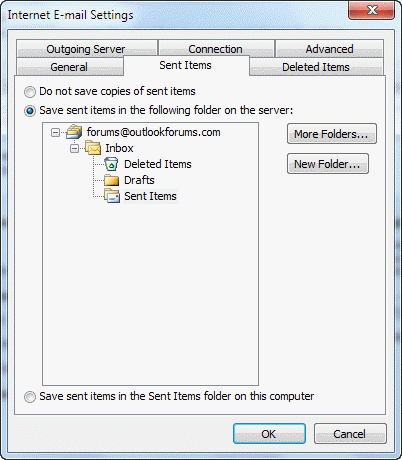 Choose the option for Do not save copies of sent items and send a test message to see if the problem persists.
Note: this setting will not remove existing duplicated sent messages. It will prevent duplicates from being created going forward.
Change Outlook's Global Options
If you have only one email account in your profile, you could use the option to not save sent messages. This is in File, Options, Mail, in the "Save messages" section, uncheck the option to Save copies of messages in the Sent folder.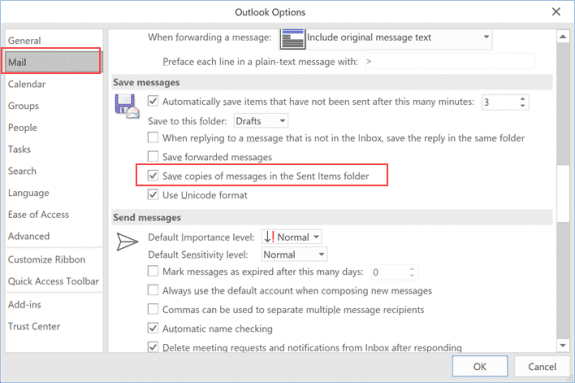 Note that this setting will apply to all accounts - if you have more than one email account configured, you will not save sent items for any account.
For this reason, you need to be careful using the global setting in File, Options as not all mail servers will save a sent item for you when sending. It's better to disable the option to save sent items on the More Settings, Sent folder tab.
Scanning outgoing mail with an antivirus scanner may result in duplicates.