The Problem: You have two email accounts. One is configured in Outlook and auto-forwarding enabled on the other, forwarding account to the personal one. You want to add the second account to Outlook, but just as an address to send messages from.
Gmail and Office 365 (and possibly others) allow you to configure multiple accounts online and select the From account when sending, however, only Office365 lets you choose these secondary addresses as a From address in Outlook without adding a second email account to Outlook. (Office365 will reply from the correct address too.)
Note: If you are using Outlook 2010 with an IMAP account set as default and one or more POP3 accounts in your profile, this method is not necessary when Outlook 2010 SP1 or greater is installed. Mailto's will correctly use the default account. See Multiple Accounts and the Default Account for details.
Create a Send-only Email Account in Outlook
The solution: Create a "send only" account in Outlook.
To do this, you need to add the account as a POP3 account and use a fake Incoming server name.
In the Account Settings dialog, click Add.
On the first page of the dialog, select Manually Select Server Settings and click Next
Select Internet E-Mail
Add the account as a POP3 account (1)
Enter a fake Incoming server name, such as "mail" (2)
Use the correct SMTP info for the server and logon information. (3)

Select the data file where you want sent messages to be stored (4)
Click More Settings and select the Outgoing server tab. (5)
Configure authentication for the outgoing server, then close the dialog.

Uncheck Test account settings before clicking Next to complete the dialog since the fake POP3 server name will fail.
Configure Send and Receive Settings
Back in Outlook, open the Send and Receive dialog by pressing Ctrl+Alt+S on your keyboard then select the All Accounts send and receive group. Click Edit.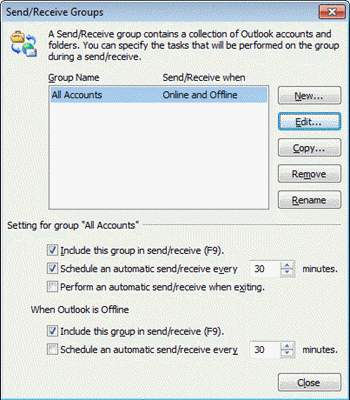 Select the account and remove the check from Receive Mail Items.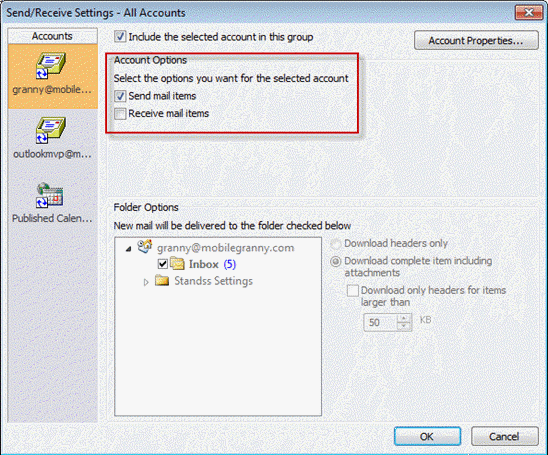 Close the dialog and return to Outlook.
When you check for mail, this account will be skipped. When you select this account while composing a message, it will be sent according to your setting (either immediately or on the next mail pass).