Beginning with Office 2013, the Office applications were designed with touch screen tablets in mind, and to this end, When Outlook is in Touch Mode, the ribbon is a little roomier and useful buttons visible along the right edge of the screen.
When you first install Office on a computer with a touch screen, touch mode is enabled by default.
All of a sudden, the delete button is missing next to the messages in the message pane and the reply, reply all, and forward buttons are no at the top of the reading pane. I have these buttons, along with Flag, Move, and others on the far right side next to my To Do bar.
The bar on the right is the Touch bar, putting the buttons close to the user's thumb in tablet mode.
Turn Touch mode on or off
To check out touch mode, expand the Quick Access Toolbar menu and select Touch Mode. This adds the Touch Mode button to the QAT which you can use to toggle Touch Mode off and on.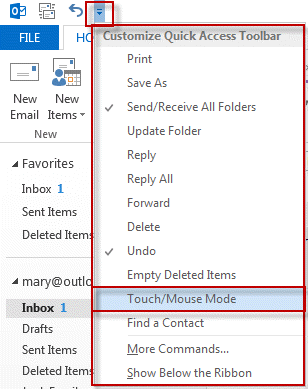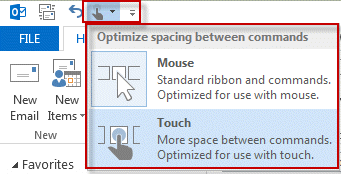 Although it's less than useful if you don't have a touch screen, if you like the roomier ribbon, you can use it with a mouse. If you like the Delete button in the message list, you'll want to stick with mouse mode unless you are using a touch screen.
This screenshot shows the Home ribbon in "normal" mode. The Touch Mode button was added to the QAT and is highlighted.

Touch Bar
When Touch Mode is enabled, a toolbar is added to the right side of the screen (see screenshot below) and the ribbon is roomier. I like the Quick Steps menu (especially on a window wider than I used for the screenshot.)
The Quick Delete, Mark as Read bar, and Flag buttons in the message list cannot be selected by touch, you'll need to use the icons on the Touch bar instead.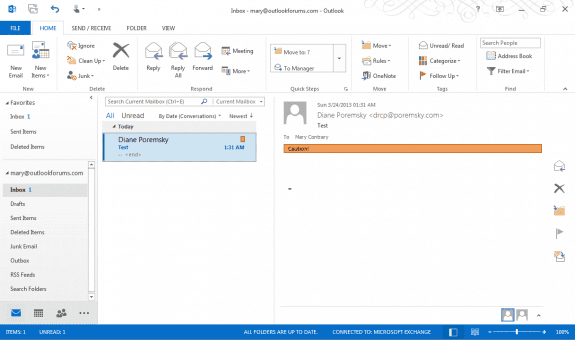 Use the touch bar on a tablet to reply (flyout includes reply all and forward options), quick delete, move or copy to folder, flag for followup, or mark messages read and unread.
| Icon | Command |
| --- | --- |
| | Reply, Reply to All, Forward |
| | Delete |
| | Move or Copy to Folder |
| | Flag for follow up |
| | Mark as Read or Unread |