Like the Windows Insider program, the Office Insider program is an ongoing preview program for Office 365 subscribers (both Windows and Mac), providing early access to the latest Office features. It's open to anyone who has an Office 365 subscription (administrators need to enable First Release on business accounts before business users can install the Insider Builds).
If you want to file bug reports, you'll need to "upgrade" to an Insider build. Then you can go to File, Support, Contact Support. I highly recommend doing this if you feel a behavior is a bug.
Current Channel (Preview) is the current name for Monthly Channel (Targeted) and is the original Insider program. Users in this ring will receive an update about a week or so before the official production release each month, and then the official production release when it goes out (2 updates per month). These two are generally very close in terms of features and fixes.
Beta channel delivers weekly updates from the development branch. There will be features available to users in Beta Channel that won't be available to Current Channel (Preview) or Current Channel. Because this build is from the development branch, these users always be a version ahead of the official production release.
You can check to see which update channel you are currently using in File, Office Account (or Account in Word or Excel). The update channel is listed below the suite name and the version number.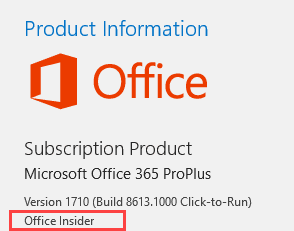 Join Office 2016 for Windows Insider
If you'd like to join the Office Insider program and have a consumer subscription (Home, Personal, or University subscription) go to the Additional Install Options page of My Account and choose an Insider option from the Version drop-down menu.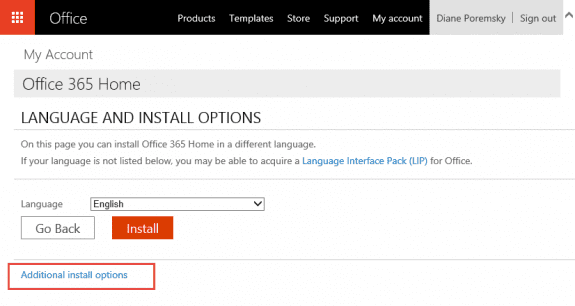 Office 365 business and enterprise users get the Insider Build through First Release program.
To switch from Insider Slow to Insider Fast, you'll need to set the following registry value:
HKEY_LOCAL_MACHINE\SOFTWARE\Policies\Microsoft\office\16.0\common\officeupdate
String: updatebranch
Value: BetaChannel
To choose one of the other update channels, use Value in the first column in the updatebranch, instead of InsiderFast.
Below are the valid values for UpdateBranch, listed in order of fastest/newest updates to slowest. Either the old or new value will work.
If you don't want to edit the registry, links to prepared .reg files are available. (Right click on the link and choose Save link.)
UpdateBranch Value
Description
New
Old
Link
BetaChannel
InsiderFast
Beta
Now called the Beta Channel. This channel gets all the newest features first. Was previously known as Office Insider, Insider Channel, or Insider Fast.
CurrentPreview
Insiders
Current Channel (Preview)
This is now called Current Channel (Preview). Updates released approximately 1 to 2 weeks before available on the current channel. Was previously known as Insider Slow, Monthly Channel (Targeted), or First Release for Current Channel
Current
Monthly
Monthly release
Features and updates are released monthly, as soon as they are ready but not on a set schedule.
MonthlyEnterprise
Business
Monthly Enterprise release
Added May 2020. New Office features and updates are released once a month, on the second Tuesday of the month. Same as Monthly channel but on a more predictable schedule.
SemiAnnualPreview
Targeted
SemiAnnual (Preview)
Semi-Annual Channel (Targeted) (was First Release for Deferred)
Feature updates are available 3 months before the Semiannual channel, on the second Tuesday in March and September.
SemiAnnual
Broad
SemiAnnual
SemiAnnual Channel (was Deferred Channel)
Features are added or updated in the Semi-Annual Enterprise Channel twice a year, on the second Tuesday in January and July.  Security updates are monthly, on the second Tuesday.
Join Office 2016 for Mac Insider
To join the Office for Mac insider program, open an Office 2016 for Mac application then click Help, Check for Updates. In the Microsoft AutoUpdate dialog box, select Join the Office Insider program to get early access to new releases check box and choose between Fast or Slow updates.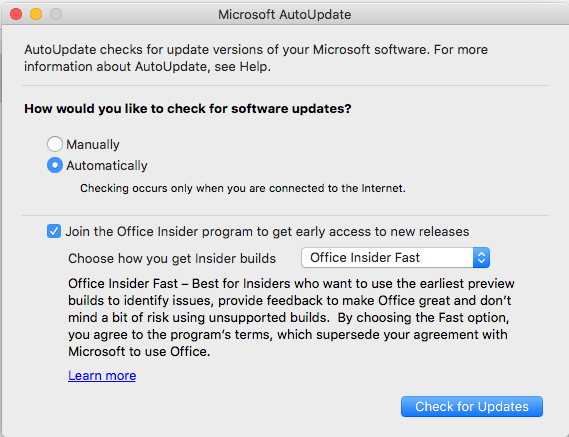 The iOS, Android and Windows Mobile apps (Word, Excel, PowerPoint) are also available to "Insiders".